Stand tall
"I know not having a ceremony is disappointing. But no one can take away all your hard work or your wonderful memories. Congratulations on your graduation. I look forward to seeing all the wonderful things and happenings you will bring to the lives of those you will touch. Enjoy your day. Stand tall." - Clare Anne Stefanucci '86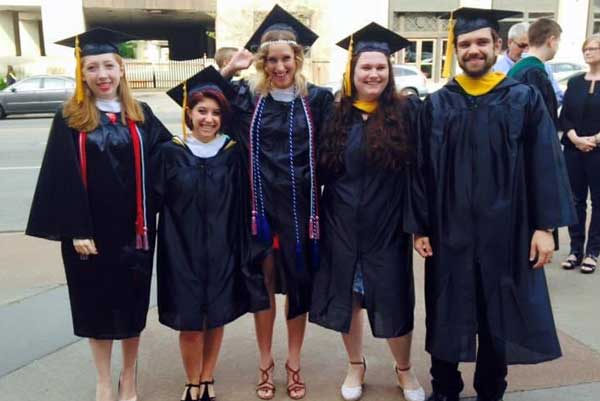 "Congratulations to the Class of 2020! Enjoy celebrating your well-deserved achievement and know that the Naz Alumni family is so very proud of each of you. Wishing an extra congratulations to the undergraduate research staff of Project FLIGHT at Mt. Hope Family Center!" - BriAnna DiLuigi '15
"You have got this!"
"Your time at Nazareth, as mine was, will never be forgotten. Although this year has been cut short, it still counts, and you will always be stronger for this. Truly. I feel for you and what you are going through." - Katie Mooney '02, '06G
"Class of 2020 — As someone who arrived at Naz with many of you, this class holds a dear place in my heart. You were my college peers and classmates, and I remember our time together fondly. While you may not be walking this weekend, I hope you are able to close this semester on a note of happiness. Nazareth has a truly wonderful sense of community that brings us all together, and I hope that shines through as you move on to bigger and better things that I know await all of you. Congratulations on all your incredible achievements!" - Allison Kurthy '19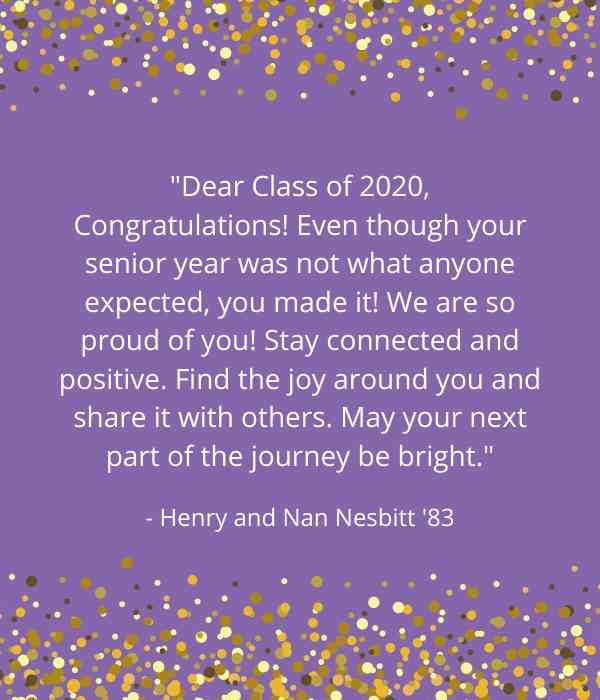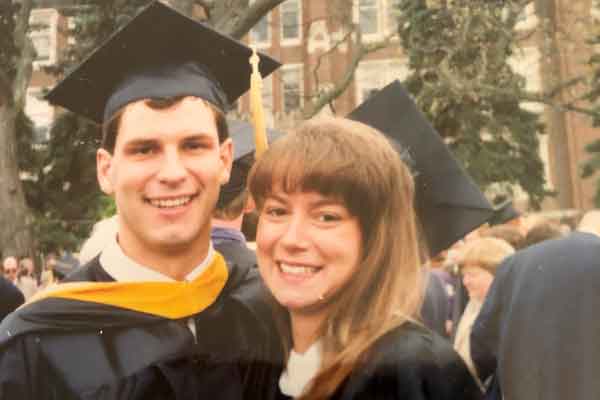 "You are strong and amazing."
"Congratulations class of 2020! I'm sorry your senior year doesn't look or feel the way you imagined it would. I have a senior in college and in high school that are feeling the same way. Know that your emotions are real and valid. You are allowed to be both angry and sad. But also know that your families are tremendously proud of how you are adjusting and love you. You are strong and amazing. Congratulations on all your successes! My Nazareth friends are my lifelong friends. You will all celebrate together again. Until then, congratulations and god bless you all. #2020 strong" - Lisa Swayze Hannel '92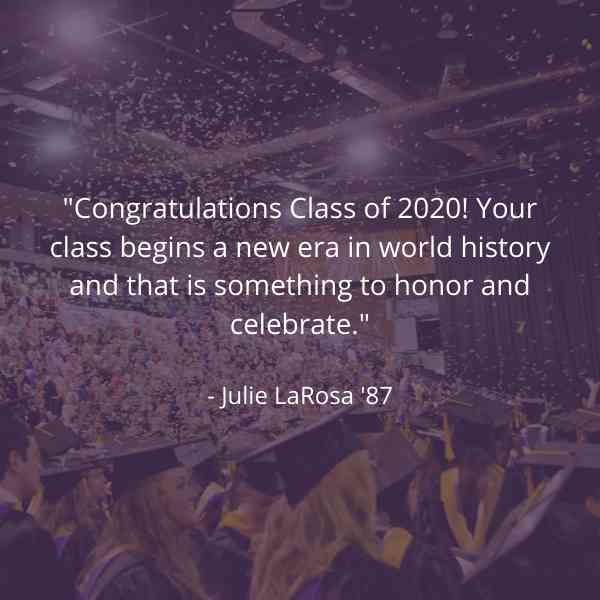 "Be open to all possibilities."
"Dear Graduates, I was so proud when I graduated with my master's in education from Nazareth in 1978. I accomplished this while teaching full time in the field of early childhood, and I was pregnant with our first child when I graduated. I thought I was going to continue to be a preschool classroom teacher. However, I went on to teach, administer programs, own and operate my own preschool, start a consulting business, and for the last 20 years I have been an adjunct professor in early childhood education. I share this with you, so that you know your graduation from Nazareth is just the beginning of a new chapter in your life.
Whether you are being awarded an undergraduate or graduate degree, I hope that your education does not end here. I wish for you to be a lifelong learner in whatever field(s) you choose. Indeed, the career may choose YOU, instead of the other way around. Be open to all possibilities!
Congratulations on this current achievement, and I wish you many, many, more!" - Pam Mele '78G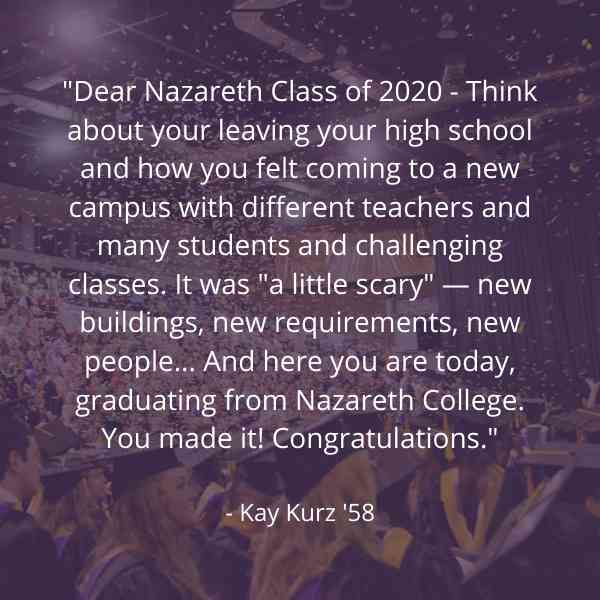 "Congrats! You can change the world."
- Sherry Todd '07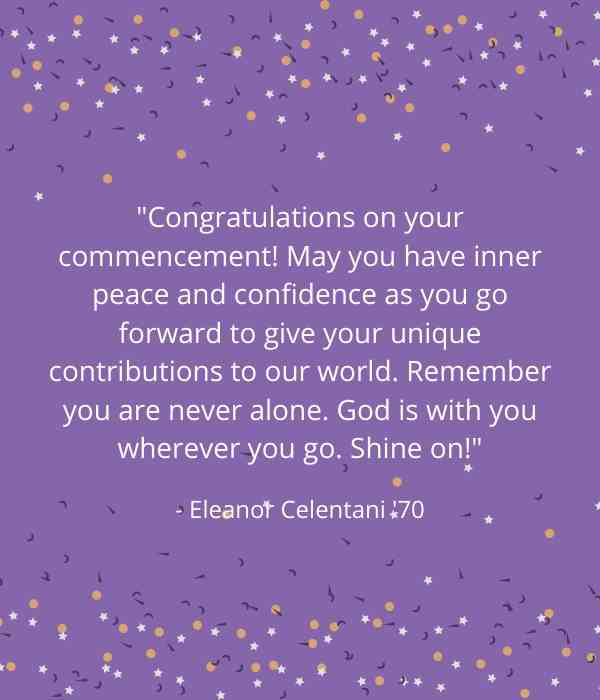 "Commencement is only the beginning...
of realizing you are what you eat and drink. By age 70, you'll want your best shot at good health for you and your loved ones. Don't smoke or drink excessively. Elect people who advocate for clean air, water and land for your children and grandchildren. (We did.) Keep moving!
of caring for others. Fact: It's not all about me. Can you rethink service to others? (Don't say 'What do I get back?') The joy of giving is contagious. Yes. You can serve humanity. The earth needs worker bees and not so many queens.
to be prepared to be a leader, in your job and family. As a young widow, I was the captain of my little crew of three. I was the survivor who buried parents and a sibling. Did it fit my idea of a perfect life? No, but I am stronger, and a more empathetic woman in work and friendships. Experiences keep us humble. Respect where we seniors have been and ask what we know!
reminding yourself that character matters. Will you be a whistleblower against injustice and bullying? Advocate for fairness and kindness. Your integrity is your gift in a world of fraud and corruption. There will always be enough rewards waiting on the path meant for you. Keep your soul intact.
of keeping a space in your life for creativity. What I learned at Naz: Smile. Say hello to the store clerk. Open a door for a stranger. Your behavior is your banner.
The universe is a realm of rainbow colors and dimensions, not blue or red. Don't restrain yourself from your destiny. Live! Laugh! Love!" - Jean Serusa '73, '79G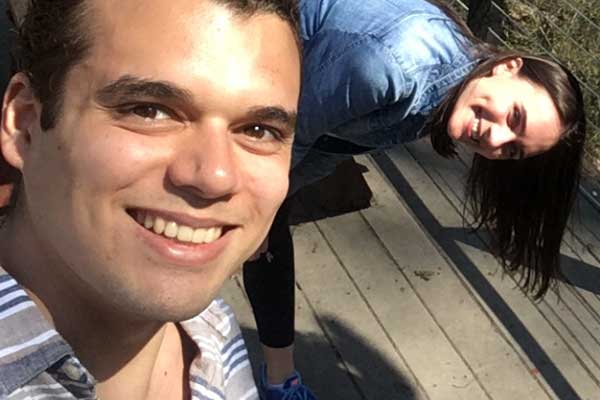 "You all deserve freedom and appreciation!" - Diego Mejía Córdova '19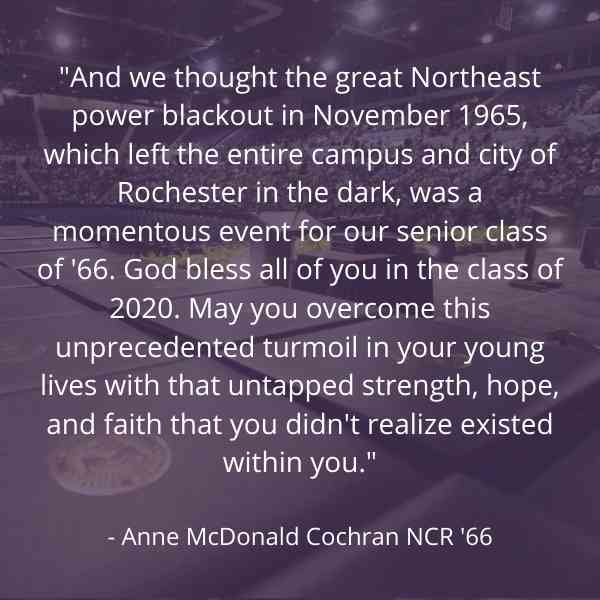 "Hey 2020 Grads! You have all worked hard during your years at Naz! It definitely will be a memorable year in so many ways. Make the best of it. The ceremony is an important part of your journey that hopefully will happen one day. Hang in there, stay safe and healthy. Good luck with your job search." - Angela Cieri Meindl '80
"Congratulations Class of 2020 and especially to my son Eric Woodin! Reach for all your dreams!" - Lori Anne Atallah '10, '16G