FEATURE
The Changemaker Revolution
A new (yet familiar) Nazareth framework that will change everything
by Erich Van Dussen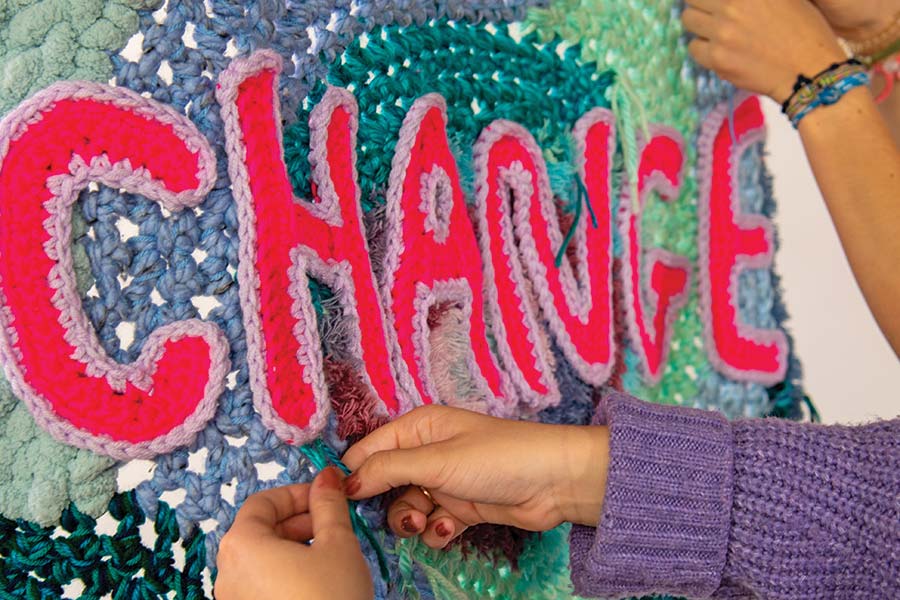 When she arrived at Nazareth College, Amelia Johnson '22 expected her life to change. What she didn't expect was how she'd acquire the skills to create change in the world around her.
"One of the things you hear as soon as you get to Naz is the importance of finding your purpose — your life's work," Johnson says. "I was always interested in government and politics, and at the end of my freshman year, I ran for a student government position. That's when I really started to think about change as something I could do myself."
In her junior year, Johnson was elected president of the Nazareth Undergraduate Association; today the full-time student juggles her studies, her duties on the UA Executive Board ("We have a lot planned — we really want to help the Nazareth community," she says), and a communications internship with the Monroe County Democratic Committee in Rochester.
Along the way, she's become a passionate advocate for Nazareth's Changemaker framework, a model that integrates all aspects of the Nazareth learning experience to support the College's mission of developing and engaging students in working for social change. As she considers a political communications career, Johnson wants to use her experiences as the foundation of a life devoted to helping others. Recalling her early Nazareth days, "I wouldn't have thought of all this as 'changemaking' the way I do now," she says. "But that's definitely what it is."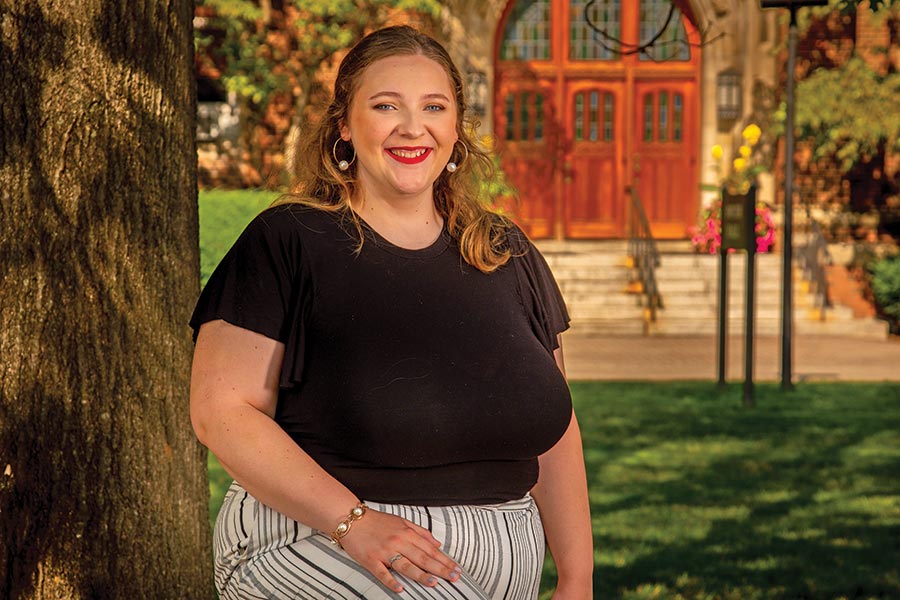 Amelia Johnson '22 began to see herself as a changemaker at the end of her first year at Nazareth.
A Model That Fits
Before we go any further: What is a changemaker?
Simply put, the term applies to anyone who takes action to address a problem, activate and collaborate with others, and work toward solutions for the good of all. Changemakers continuously notice challenges and cultivate solutions in their families; in their communities and workplaces; and in the sectors, countries, and world they call home.
At Nazareth, this approach has drawn from and extended work by Ashoka U, an international social innovation network. Empathy for others is seen as crucial in this framework, as is a personal connection to the issues at hand. Changemakers are tenacious, and they're relentlessly driven to make a difference in ways big and small.
Students, faculty, and staff are collaborating to weave Nazareth's Changemaker tenets (see graphic) into Nazareth's student learning experience, thereby facilitating change for the College itself and extending partnerships with community organizations to drive changes in the community at large.
Professors Lisa Hiley '02 and Tania Giorgis (communication sciences and disorders), Michelle Donahue '02, '03G (physical therapy), Liz Hebert (occupational therapy), and Shirley Sharp (social work) brought together faculty and student teams to provide thousands of screenings of children's hearing and hundreds of screenings of children's vision, dental health, language and speech, cognitive and social-emotional development — helping to develop "gold standard" protocols for these early intervention screenings. With faculty oversight, students also have provided enrichment groups for children. Giorgis helped expand the endeavor to offer screenings in Spanish.
This GROW effort — now infused as community-engaged service-learning and experiential opportunities in an academic minor called Developing Child and Families and in a graduate Infant Mental Health Seminar course — better prepares students to be responsive and family-centered providers. This partnership with community experts and families also is addressing key workforce shortages in early childhood in the community.
Inclusivity — one of the seven components of Nazareth's Changemaker framework — is particularly vital for the integration to achieve lasting success, says Marie Watkins '73, professor and director of Community Youth Development. Because of her lifelong commitment to equity and social justice, she has long practiced changemaking principles. Most recently, in semester-long community-engaged learning course projects and focused leadership workshops, she has championed partnership-based solution-seeking on issues that include racial healing. "I'm inspired by the reaction from students and our community co-conspirators," she says.
Central to those projects has been bringing together disparate voices to do hard, sustained work: creating a shared understanding of how change can occur. Historical changemaking efforts, Watkins says, "often silenced or marginalized groups by dominating change tactics. To do it differently, we have to be open to new ways of knowing and doing. A lot of learning, and a lot of un-learning, has to happen."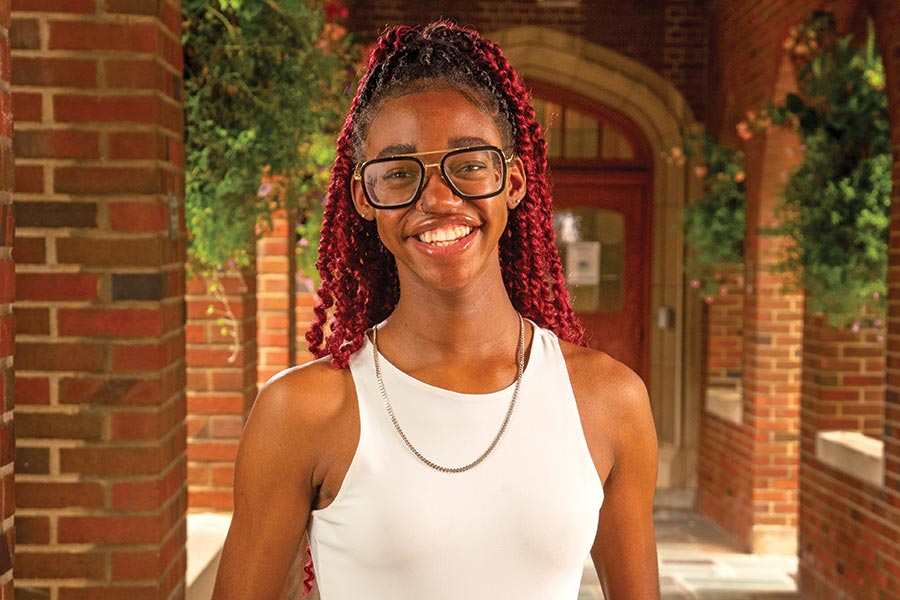 "Anything is possible," says Kyra Green '23, who was honored for her community involvement.
The Integration Roadmap
The working components of Nazareth's Changemaker framework have been present for years in some of Nazareth's academic programs; in initiatives such as the Center for Civic Engagement; and in long-held emphases on global learning, community service, and social justice. For that matter, changemaking qualities have been in the College's DNA since day one.
"Nazareth was founded on a commitment to progress," says Beth Paul, Nazareth College president. "Changemakers are committed to that same goal. We want to foster the kind of rigorous learning that helps people achieve progress for the good of humanity."
"Only the framework is new," agrees Adam Lewandowski, associate director of the Center for Civic Engagement and one of the lead voices in Nazareth's Changemaker work. "It's designed to ensure that all students have access to understanding and developing these skills."
An essential dimension of this work, Paul adds, is students' ability to leverage the natural linkages between changemaking and their academic studies. "You can't be a changemaker without very thoughtful, reflective learning in liberal arts and sciences, which is why it's critical that this be integrated with the breadth of our academic program," she says. "This is a celebration of Naz's defining integration of liberal arts and sciences and professional education, and something that takes it to the next level."
The College's integrative design starts with a class titled Academic & College Success, a seminar for first-year students. In ACS, students receive an introduction to the concepts of changemaking; as they move to other classes, their practical grasp of those concepts will progress as well.
Ultimately, the intention is to prepare students to fulfill their potential through a rewarding field of study by applying their knowledge to improve the world around them. Says Lewandowski: "We want them to be able to view their college experience, in part, through that lens — creating a unique, personalized journey of growth while they're already growing academically."
Community Responsibility
In her dual roles as an alumna and a member of the College's board of trustees, Marisa Geitner '92, '95 is excited about the potential of this sweeping initiative. Geitner, CEO of Heritage Christian Services, a regional human services nonprofit, can attest to the absolute value of a community dedicated to positive social change.
"I'm so proud of Nazareth for taking this on," she says. "They're being very intentional about the process, in order to impact and lead change in community. It's really powerful."
Geitner was a changemaker before the name existed: As an undergraduate, she founded the first Nazareth chapter of Students Against Drunk Driving — a firmly extracurricular accomplishment that she attributes to the College's deeply held dedication to social change. "It was just bred in you as part of the Nazareth community," she says.
Watkins describes herself as "cautiously hopeful" about Nazareth's Changemaker integration. "I'm hopeful that Nazareth will fully engage our community partners in a leadership role, where they have viable meaningful input and share in our resources," she says. "That's what will make this different, but that takes relationships. It takes time."
Geitner agrees. "We have to make the effort to align with others who may be thinking differently than we do," she says, "and focus our conversation around those differences. That's when you begin to see change."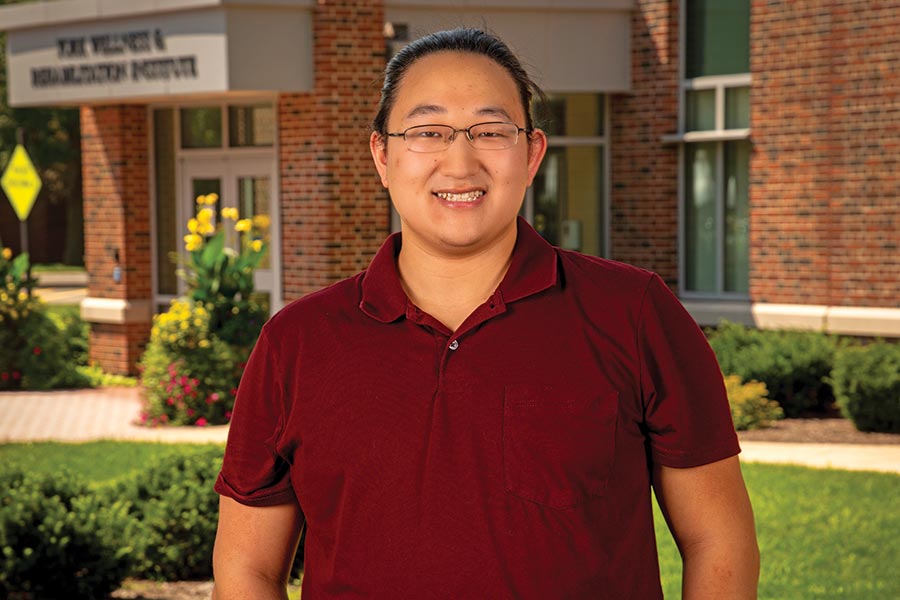 Matt Krieg '20, '22G is probing the underrepresentation of Asian Americans among physical therapists.
Change Takes Many Shapes
As part of Nazareth's Changemaker integration, community engagement and academics — already intrinsically linked — are coming together in new and innovative ways. The interdisciplinary initiative El Cuidado de Nuestros Vecinos (Caring for Our Neighbors) provides students with for-credit learning experience as they support the mental and physical health needs of migrant workers in nearby counties. El Cuidado de Nuestros Vecinos leverages the expertise of students and clinicians from creative arts therapy, social work, public health, communication sciences and disorders, and foreign languages.
"Outside the classroom, inside the classroom, and in the community — all are contexts for student learning," Paul says. "These layers of learning are being brought together in a more integrative experience. That's our goal."
Indeed, students are finding new and creative ways to bring Changemaker to life. Kyra Green '23 earned a Civic Engagement Award earlier this year for her contributions to the College's Partners for Learning program, in which she provided virtual tutoring for pupils from School #9 in the Rochester City School District; and for serving as a peer mentor in Nazareth's Academic and College Success course for first-year students. Participating in these activities and others — including Black Lives Matter-themed events and a student-led discussion series on a range of social issues — has expanded her appreciation for the college experience. "I get really excited being able to do all these things," she says. "It's great to be making a difference."
When she heads to her home in Texas, that passion comes along with her. "Baytown is a small community on the outskirts of Houston. A lot of people expect to spend their whole lives there," Green says. "But I look at home differently now. I always want to help people understand that anything is possible: Do not let anyone tell you that you can't do something just because of where you're from. Without Nazareth, I don't know if I'd understand that in the same way."
Matt Krieg '20, '22G has excitedly worked with Lewandowski to help advance the college's integration of the Changemaker framework, but he's no less enthusiastic about his more personal projects. Inspired by his study of Taekwondo, he created and ran a self-defense class at the College. "It was about helping people develop a sense of perseverance and self-awareness as much as physical wellbeing," he recalls of the class, which was forced into hiatus by COVID-19. "We worked on inclusivity, and finding ways to work together to create a community of safety for everyone."
Now, while completing his doctorate in physical therapy, he's started an independent research project to probe the underrepresentation of Asian Americans in his chosen field. "As a person of color, I know the research that shows diverse healthcare providers can provide better care to communities of color," he says. "We can't wait for change like that to happen. We have to do what we can to make it happen."
Leading the Way
With all these examples, how is a changemaker different from a leader? Geitner calls the terms synonymous.
"Leading can take many forms — it isn't about positional power," she says. "Changemaking is about self-awareness and self-exploration, and your ability to get close to things you don't understand. That can occur to anyone who opens themselves to it. It goes beyond titles."
For her part, Johnson says, the Changemaker framework lends itself organically to leadership-style roles — but with a distinction that makes all the difference. "Everything I've been doing," she says, "the courses, and the UA work, and now working with the Monroe County Democrats, shows me that people at Naz are a lot less likely to become leaders for personal gain.
"It's not about us," she adds. "It's something our community just holds as a truth: We want to help people. We want to help."
---
Erich Van Dussen is a Rochester-based freelance writer.