What has helped her act on her desire for changemaking is a master's degree in leadership and organizational change, which she completes in August. She says the Nazareth College program gave her the skills and confidence to:
Start an Autism at Work initiative focused on inclusivity and equity in hiring at Paychex, where she worked for five years. Her grad school classes about change process methodology and how different people receive information guided her in strategically and successfully presenting the idea to about 60 managers, senior managers, and directors.
Land her dream job in May at age 27 — as director of client services at Upstate Special Needs Planning, which offers financial and other life care planning to families who have a loved one with a disability or special needs.
"I'm good at leading with my passion, but passion doesn't provide numbers and revenue," Tennies says. "This grad program has provided me with tools and resources for how to lead strategic initiatives, both large and small."
While she's long been drawn to help people, she wasn't sure how. In her undergrad years, she first studied pre-pharmacy, but didn't love biology. Then she took a couple of nursing classes, since she's from a family of nurses. But she loves numbers and ultimately completed a degree in corporate finance.
She first got connected with Upstate Special Needs Planning at age 20 when she happened to land there for a finance internship. She loved the organization and the way employees live the mission. She told people there she'd be back to work someday, and she kept in touch. "That was my first view of authentic leadership, real change, and value — and what that means when you're making a tangible difference in someone's life. I craved it."
When a relative was diagnosed with a life-threatening disease, Tennies felt an urgency to pursue her passion. "Life's short," she says. "What are we waiting for?" 
She started her new job in May 2021: "I could not have been happier."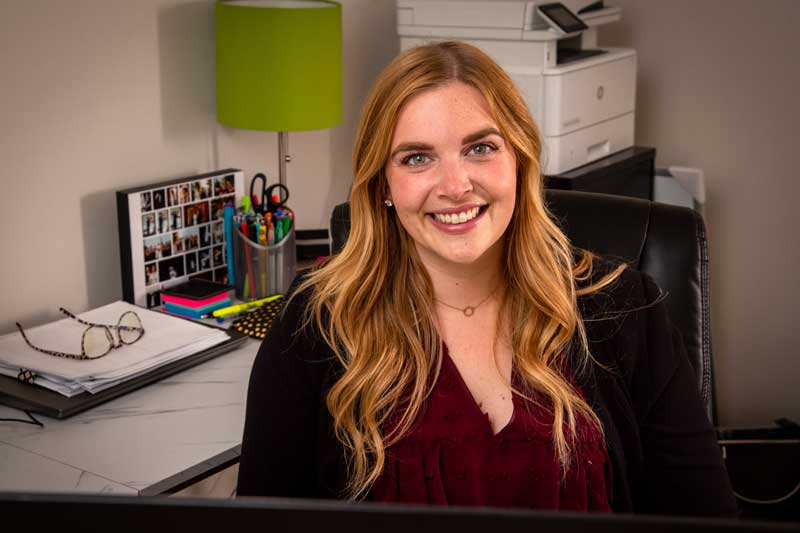 Kaleigh Tennies, in her office, says she is eager to build and improve services to enhance life for people with a disability.
Tennies is eager to streamline processes and to build and improve services. She wrote her final grad program paper on her proposal to build out a new service for their clients to address loneliness and increase connection. "I hope ... that we can create a better life for people that are impacted by a disability."
On a personal note, she adds: "My goal in life is to create a world where my brother's diagnosis doesn't define him but inspires us." Ben is now 19. Despite the challenges he's faced, Tennies says, "I have watched him grow into an amazing and loving human being."