THEIR LIFE'S WORK
Street Med
---
Moudi Hubeishy '14 has expanded his medical school studies to the homeless of Buffalo
By Chris Farnum
Doctors may judge a patient for missing appointments or not complying with prescribed treatment, without knowing that the woman has to take three buses to get to the doctor's office — or that the man's blistered, discolored, foul-smelling foot came from sleeping on park benches and wearing the same wet sock for weeks.
As a first-year medical student at the University at Buffalo, Mohammad "Moudi" Hubeishy '14 [MOO-dee Hoo-BAY-shee] envisioned, proposed, and launched a street medicine outreach effort to help medical students understand patients' lives. Teams of one or two doctors, a nurse, a social worker, and two or three medical students travel in vans two nights a week. On their three-hour shifts, they find and care for homeless people and try to connect them to social services and housing.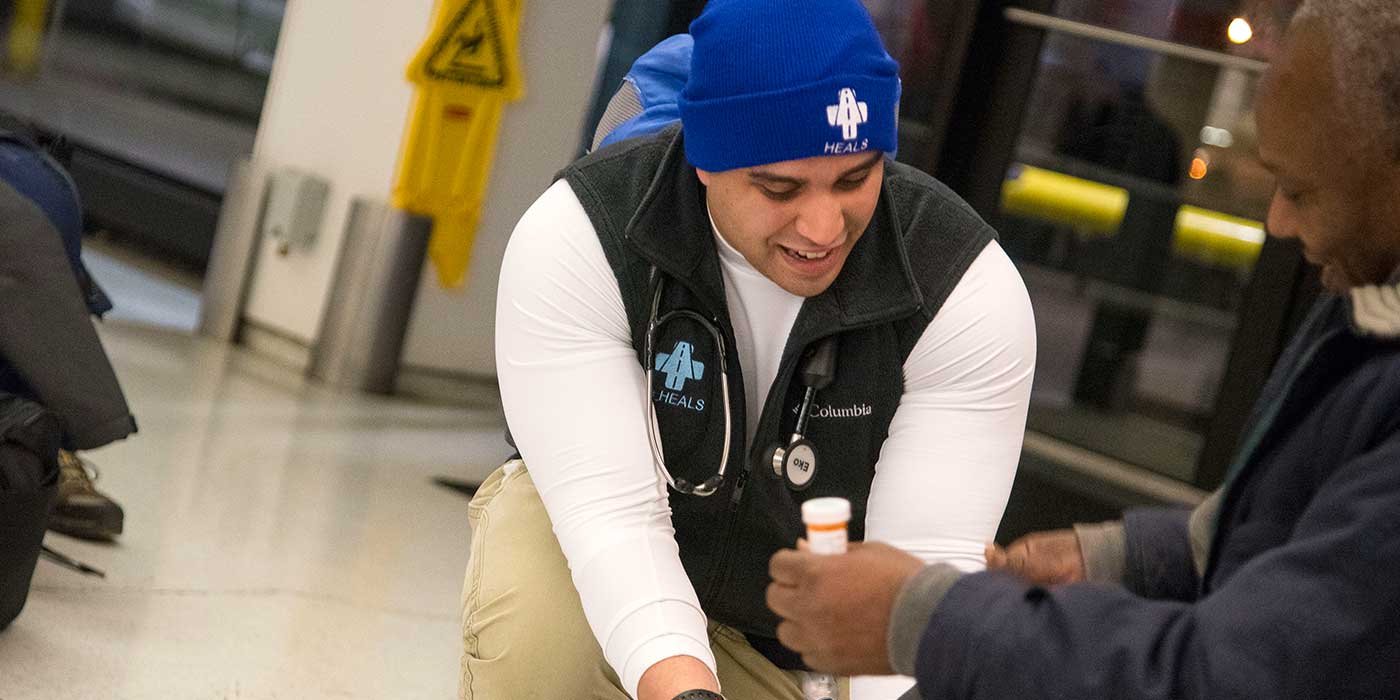 Moudi Hubeishy '14
"It's been incredible," says Hubeishy, nearly one year after starting UB HEALS — which stands for Homeless health, Education, Awareness, and Leadership in Street medicine — in March 2016. "We can see we're making an impact on the community." About 150 UB medical students have participated, helping fulfill a requirement to complete 10 hours of service-learning per year and gaining experience and education they wouldn't get in the classroom.
The idea was spurred by Hubeishy's experiences in Rochester. After earning his bachelor's degree in biochemistry with a pre-med minor at Nazareth, Hubeishy worked for a year in the Rochester City School District. "I thought I understood poverty and the struggles that city residents faced because I researched the demographics of the schools prior to the start of the school year," he says. But within three months of running a volunteer program that provided extended learning to elementary students, he realized how little he knew.
"I worked with students who faced and feared the reality of having their family go broke due to a parking ticket, who felt desperate to do whatever was necessary to support their mother who worked three minimum-wage jobs, who faced numerous difficult circumstances that typically don't exist in affluent communities," the Fairport, N.Y., native says. "The kids were really good kids. They deserved more."
As he wrestled with these ideas early in medical school, he contacted the Street Medicine Institute in Pittsburgh and heard back from its founder. Dr. Jim Withers — considered the father of street medicine — encouraged him and shared materials to help him get started. Hubeishy proposed a program to a UB medical school leader, who said it dovetailed well with the school's recent focus on service-learning.
Hubeishy says his academic and leadership experiences at Nazareth prepared him to successfully pursue his idea.
Confidence: Small classes and professors' commitment to student success result in close relationships and guidance. Hubeishy remembers cautiously suggesting "maybe it's this..." in Stephen Tajc's organic chemistry class, to which Tajc replied, "You know your stuff. Have confidence about it."
Personal development: "My writing ability and independence and research ability are much stronger than many people in medical school. Instead of taking lots of classroom tests, we focused on individual development."
Critical thinking: "Research teaches you how to think," Hubeishy said about working with Tajc on HIV research as a young undergraduate. "It's valuable to have that time when you and your professor stand there with no possible explanation for what happened, and you both work together to figure it out."
Management skills: When he worked in the Nazareth Admissions Office as a campus job, he managed 50 student tour guides, learning how to balance department and employee needs.
"It was at Nazareth that my leadership potential was fully born," says Hubeishy, who plans to seek a master's in business administration alongside a medical degree. He envisions eventually directing a hospital. "That's where I see myself going now — a career in medicine and leadership."
---
Includes reporting by Charles Anzalone, University at Buffalo news content manager and adjunct professor, in At Buffalo, the university's alumni magazine.