Global Citizenship Conference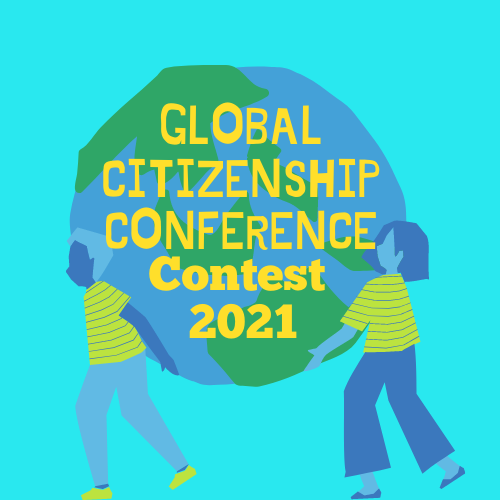 This year we are pleased to announce
that in lieu of an in-person conference, our
annual Banner Competition will transform into
the GCC 2021 Contest.
All High School students from the Greater Rochester area are invited to reflect on the role of interfaith dialogue and racial/social equity and fairness in their lives by writing an essay, recording a video, or creating a poster responding to their choice of one of these questions:
1. How has your experience as a student in the Rochester area during the pandemic informed your understanding of the need for Interfaith Dialogue? How can you play a role in increasing racial and social equity and fairness in your own communities?
2. Have you ever witnessed or experienced an incident of bias, prejudice or stereotyping? What was your reaction or response? How would you teach other members of your community to prevent or respond to such experiences in the future?


There are three categories to enter:
Poster (digital)
Video (3-5 minutes)
Essay (300-500 words)


The contest is open to all High School students in the Greater Rochester area. You may enter as an individual or as a class/group moderated by a teacher in your school.
Prizes will be awarded for 1st, 2nd, and 3rd place in each category.


Directions:
1. Have your teacher register you or your class by 4/19/21
2. Develop your own unique message about the importance
    of Interfaith Dialogue.
3. Create a digital poster, video or essay related to your message.
4. Entries must be submitted and received no later than 5/17/21.
Finalists and Winners will be announced on
June 7th, 2021, and all appropriate submissions
will be featured on the Hickey Center GCC website
and social media throughout the following year!
GCC 2022

Our conference for high school students returns to being held in person next year! It is designed to give the future leaders of our world the tools to respond to intolerance, improve religious literacy, and show the etiquette required to work in a pluralistic world. 
When: March  9, 2022, Wednesday (GCC 2021 was cancelled due to COVID-19 pandemic)

Where: Nazareth College
Participating students will:
Become more aware of the diversity of cultural and religious traditions and belief systems that exist and how they shape people's lives.
Learn about a religious tradition/belief system with which they are unfamiliar, helping them to gain understanding and dispel stereotypes.
Encounter a safe environment where they can become aware of, and dialogue about, issues of religious intolerance that have occurred in their schools and communities.
Become more aware of healthy ways of responding to conflict in order to better promote understanding.
Learn some fundamental guidelines and etiquette to help them interact respectfully in a pluralistic society.
This annual conference was inspired by a conversation that a local high school principal had with Nazareth College past President Daan Braveman and Hickey Center Executive Director Muhammad Shafiq in 2010 about the need for interfaith dialogue among the next generation, and the conference was named by two local high school students.