Run, Don't Walk: The Determined Comeback of Student Joanne Kruchten
Published September 18, 2014
On September 21, 2014, Joanne Kruchten '14 finished the Rochester Half Marathon with a time of 2 hours and 58 minutes—two minutes under her goal of finishing in three hours.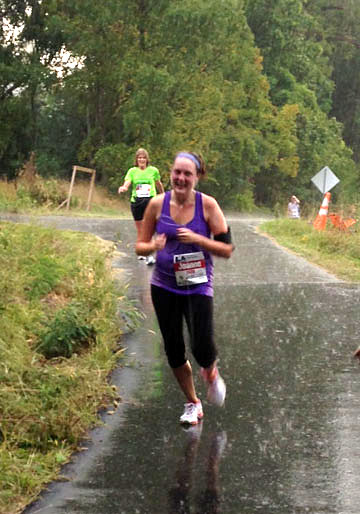 "I basically did this to prove to myself that I can. The accident took a lot from me, but it's not taking this."
At age 22, Joanne, a senior education major, trained hard for the race, but for her it was truly a physical and mental test. Just a little more than a year ago, doctors told Joanne she might never walk again. After a devastating car accident in her hometown in July 2013 (that claimed the lives of three friends), she spent more than a month in the hospital with a brain injury that robbed her of the memory of the accident for weeks. She also suffered a severely shattered pelvis that healed with the help of surgery and many screws to stabilize it, and a broken collarbone and femur, which now is replaced by a rod in her leg. Internal bleeding meant surgery to remove her spleen, and one lung was punctured.
Yet, none of it stopped Kruchten.
"I was in a wheelchair from the time I was in the hospital (in July) until October 2013 when I could finally bear weight," said Kruchten. "I then had to retrain myself to walk, first with a walker, then two crutches, and eventually one crutch."
She returned to Nazareth in January 2014, making it difficult to maneuver around campus with snow and ice, only missing one semester of classes in the fall of 2013.
"I didn't want to take time off from school. It took a lot of convincing from my parents and doctors. Once I found out I could still take part in graduation with my friends, I finally caved in."
Kruchten did walk across the stage at the May 2014 Commencement ceremony at the Blue Cross arena, and she credits the support she got from the Nazareth community, including her School of Education professors who she says went "above and beyond."
Kruchten has just finished her final semester of student teaching in Hilton.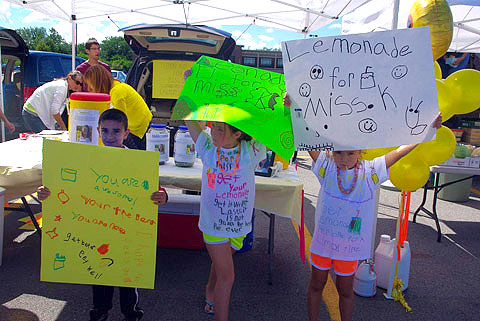 "Last year, my students at State Road Elementary School in Webster hosted a lemonade stand on my birthday and raised nearly $2,700, while I was still in the hospital. The whole school is just a great community."
Support also flowed in from the Nazareth Swimming and Diving team, where she's been team manager for a couple years. Swimmer Mallorie Dygert held a 5K at Nazareth last year with all proceeds going to her roommate Joanne's recovery. (Dygert pictured below at left with Kruchten at swim meet)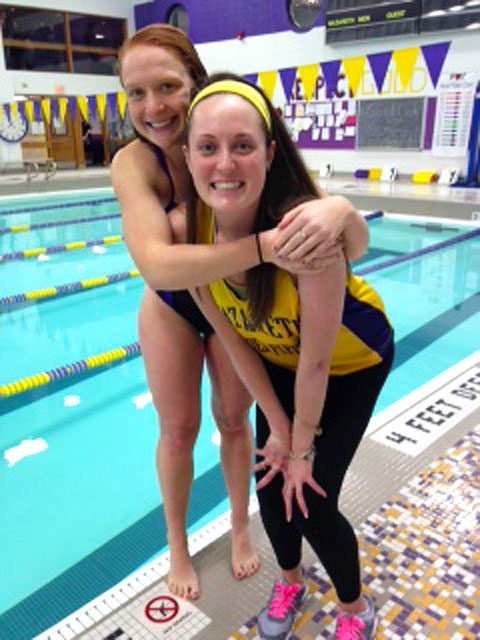 And members of the swim team were on the sidelines during the Rochester Half Marathon, manning a water stop along the racecourse and cheering Joanne to the finish.
Joanne ran all summer in preparation, said Martie Staser, coach of the Nazareth swimming and diving team. "I couldn't be more proud of her and in awe at what she has accomplished in such a short time."
"I was really excited when I finished," Joanne said of her half marathon experience. "I felt really accomplished and I loved having my friends and family there—it was comforting to have all their support."
While a training injury has postponed Joanne's plans for a full marathon, she's scheduled for an upcoming 5K in Florida with her roommate. She is embracing the mental challenges of running longer distances with a little dose of nerves and a lot of perseverance. "The half marathon was the most I've run with all my new hardware. It's hard because I'm a lot slower now, but I can still do whatever I put my mind to."
Nazareth College's academic strengths cross an unusually broad spectrum of 60 majors, including education, health and human services, management, the fine arts, music, theater, math and science, foreign languages, and the liberal arts. The coeducational, religiously independent, classic campus in a charming suburb of Rochester, N.Y., challenges and supports 2,300 undergrads and 700 graduate students. Nazareth is recognized nationally for its Fulbright global student scholars and commitment to civic engagement. Rigorous programs, an uncommon arts and sciences core, experiential learning, career skills, and a global focus prepare graduates for not just one job, but for their life's work.