Nazareth Students Learn Leadership Skills in the Grand Canyon
Published August 12, 2015
"Even though I was thousands of miles from Nazareth, the lessons taught me about the service mentality Naz has that I take for granted and reminded how much I truly love Nazareth for all it has to offer." –Meaghan Porter, '16  
Four Nazareth College students spent a week in the Grand Canyon National Park in July for a leadership training conference for college alternative break leaders, joining more than 70 students from colleges all around the country. Seniors Meaghan Porter, Claire Sobraske, and Victoria (Tori) Gac, along with sophomore Kelsi Barnholt, spent the week at Grand Canyon ABCs - Answering the Call to Action: A Second Century of National Parks, and will use their training in preparation to lead Nazareth's two alternative break trips to Washington, D.C., and Guyan Valley, W.Va. in Spring 2016.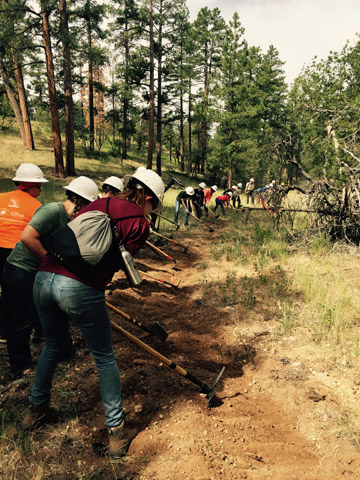 Grand Canyon National Park proved to be an on-the-job training ground. The four Nazareth students learned a crucial job in forest fire management from the National Parks Service. "My co-site leader and I led 12 participants focused on fire management within the park," said Tori Gac '16. "Natural wildfires are essential to maintaining stable ecosystems in the area, but have been suppressed over the past few decades. Our community service focused on prepping an area for a prescribed fire. We moved brush one chain (66 ft.) away from a power line and also dug a fire line to contain the fire." The service work the students completed in just four days equaled what it would take a 6-month full time employee on the Wildfire Management crew.  
 The four were educated about the environment and what detrimental effects humans have made on it. From many reflections and discussions, participants learned the importance of being environmental stewards in their own lives.
Gac says she also learned a lot about her own leadership style. "The best experience for me was being a site leader for the group," she said. "I learned about my own strengths in leading, while working with a site leader who had a different style."
The Nazareth team knows that the summer training will help them lead successful spring break trips during the school year.
"I heard numerous perspectives on programs and lifestyles of other college campuses," said Porter. "These perspectives will be greatly beneficial in improving the alternative break programs at Nazareth to be better than I could have imagined before."
"The four of us are committed to building an alternative break culture throughout the Naz campus, so more students want to attend the trips and experience what we have on past trips--creating a community of social action," said Gac.
Their organizational skills and forethought are already paying rewards. The conference staff set up a contest where it would select the most comprehensive strategic plan that showed clear goals and objectives to build-up a school's alternative break program.  Nazareth was chosen as the winner from more than 20 plans, and came back with $100 for the College's Alternative Break program.
Gac is proud of the many experiences she's had here at Nazareth and how they've prepared her to lead. "In my major as a music therapist, I've learned to facilitate drum circles, lead verbal processing and musical experiences, all of which contribute to my leadership style."  Holding positions in student clubs, along with acting as a student ambassador "helped prepare me for this training, making it one of the most worthwhile experiences I've ever had," said Gac.
Porter, a resident assistant and Partners for Learning volunteer at Nazareth, says Nazareth is a unique place with numerous areas to grow as a leader and get involved.  "Participating in an alternative break makes you part of a community who work together to make a difference as a part of a greater movement that will last for centuries rather than the mere week that you participate in," said Porter.
Photo on Right:  (L to R) Kelsi Barnholt, Meaghan Porter, Claire Sobraske, Tori Gac pose for photo while working in Grand Canyon National Park.
Nazareth College's academic strengths cross an unusually broad spectrum of 60 majors, including education, health and human services, management, the fine arts, music, theater, math and science, foreign languages, and the liberal arts. The coeducational, religiously independent, classic campus in a charming suburb of Rochester, N.Y., challenges and supports 2,300 undergrads and 700 graduate students. Nazareth is recognized nationally for its Fulbright global student scholars and commitment to civic engagement. Rigorous programs, an uncommon arts and sciences core, experiential learning, career skills, and a global focus prepare graduates for not just one job, but for their life's work.