Striking gold: "An institution where students are the priority"
Anani Serbeniuk '18 appreciates support as she juggles parenthood, two majors, jobs, clubs, and volunteer activities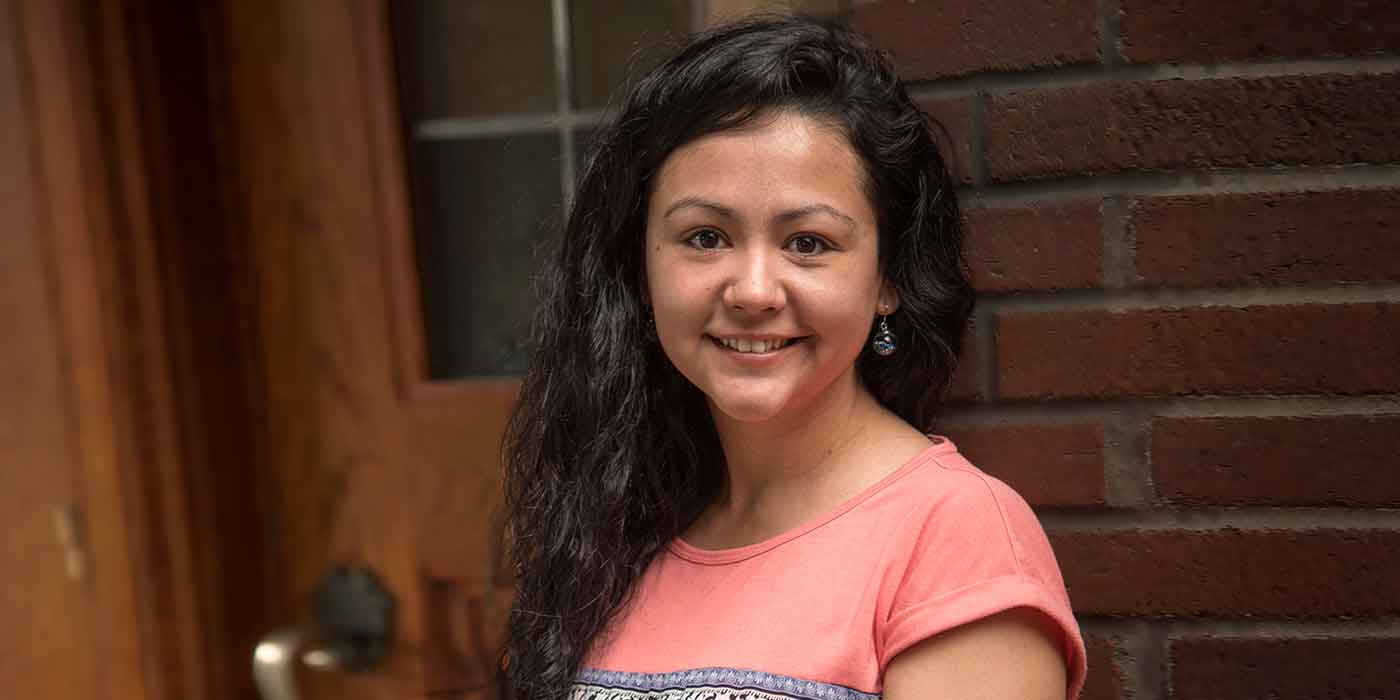 As a transfer student, how did you get into the campus groove?
Getting involved in multiple on-campus opportunities really helped me meet new people, and recognizing faces on campus always makes me feel at home.
How did you choose your major?
When I started at Monroe Community College, I was leaning toward studying nursing. At that same time, my son — who was 2 — started receiving speech therapy services. Seeing the interaction between my son and his therapist, and also recognizing how important her work was, made me want to become a speech pathologist.
What things do you like best about Nazareth?
I love the interaction, communication, and relationships that are so easily formed with other students, staff, and faculty. I love all the opportunities the college offers to students and the services it provides.
I like feeling that my professors care and that they know me as an individual. My experience at Nazareth feels personalized not only because professors understand that my son is my number one priority, but also because all my professors care about me, respect me, and want to see me succeed. And this is true with all the other students as well. I have struck gold coming to an institution where students are the priority.
Describe your interactions with faculty and staff at Nazareth.
Every single time I have needed anything — extra help on homework, editing a paper, reviewing for an exam, or even advice about life in general — I have always been fortunate enough to have all the professors be there for me. It is amazing that I have found a college in which all professors genuinely care about the material they teach and the students in their classrooms. Dra. (Esperanza) Roncero, my Spanish major advisor, has always helped and guided me at Nazareth, but also while I was in Peru studying abroad with her, a life-changing experience.
Prof. Coles in the Communication Sciences and Disorders Department has been tremendously supportive and always goes out of her way to make me feel special. She has a way of making me feel proud of the hard work I'm doing and makes me excited about the future.
What do you do for fun?
I love to make (my son) Kory happy, so for fun I usually do anything that will put a smile on his face. Some of our favorites are going to the Strong Museum of Play, Seabreeze, Altitude Trampoline Park, or any other fun kid activity. We also like exploring different playgrounds around Rochester and swimming, hiking, and fishing.
Story published in 2017.