It's OK If You Don't Know Your Major

Hannah Eberle '18 shares an insider's experience on selecting a college and a career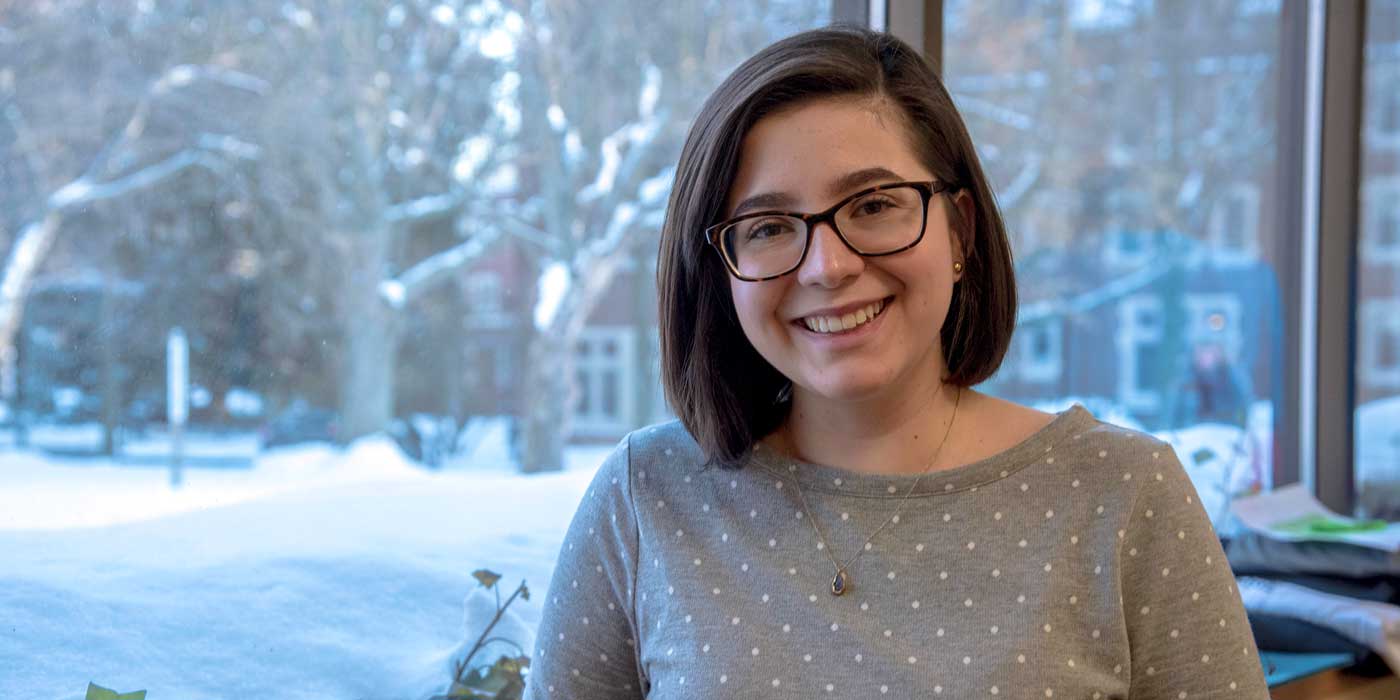 In high school, Hannah Eberle had multiple ideas about potential careers. Maybe graphic design, nutrition, or museum studies. She took college-level courses in art, biology, and Spanish.
But while her classmates seemed to know what they wanted next, "I had absolutely no plan," she says. "I couldn't narrow it down to one specific thing I could see myself doing for my entire life."
What worked for her at Nazareth
A structured program: The Open Path Program at Nazareth gave her an advisor who specialized in undeclared-major students, and they met regularly. A weekly career class and a major/career group provided more guidance. Social gatherings connected her with other Open Path Program students. She completed personality tests to discover careers that would suit her. And as a freshman, she was matched for an externship with an alum who worked in communications at a local non-profit agency, giving her the chance to shadow the professional and learn about her job.
Liberal arts: Her advisor encouraged her to take classes to further explore fields she was interested in. Those courses — and going to events at Nazareth's Casa Hispana — led her to choose to double-major in Spanish and communication and media and to add a minor in women and gender studies. Other classes introduced her to areas of knowledge that she believes she'll continue to learn from.
Professors: "My relationships with my professors stand out to me, especially in communications and media and Spanish. All of those professors are all strong, intelligent women who lead these departments and teach these classes and have had amazing careers." They've given her advice and modeled how to live. Spanish Professor Esperanza Roncero, in particular, exemplifies "how to be an ethical, kind person ... and she makes great food. We went to her house for a goodbye dinner before Spain."
Getting involved: "I joined a ton of clubs." In four years, that included a women's health club, Latin American Studies Majors Association, Golden Gazette online newspaper, the student government, and the Lambda Association, which celebrates diversity and supports the lesbian, gay, bisexual, and transgender community.
Be patient and keep making progress, Eberle recommends. "It took at least a year to figure everything out."
Studying Abroad
Figuring out what you want to do doesn't all happen on campus. Taking advantage of opportunities to go far from home further expanded Eberle's perspective on herself and potential careers.
She spent one spring break with a Nazareth group in Nicaragua, working on youth development projects at a school and orphanage — and using her Spanish language skills.
For one semester in Valencia, Spain, she lived with a host family and studied Spanish, art history, and commercial communications. That first marketing class sparked her interest in working at a marketing agency — which led to a summer internship at Haley Marketing Group* near her home in Buffalo. She concluded that marketing is the field for her. "You get to work with clients, listen to their goals, and you come up with a plan that helps them create a real change and a real impact. You get to be creative and strategic."
Insider's scoop
Eberle got student jobs on campus in the Center for Life's Work career office and the Open Path Program office — so she helped others with their process of choosing a major and exploring or preparing for careers.
What she now tells teens seeking a college: "It's OK to go in without knowing (your major) — you'll find it while you're there, and that exploration process is good."
Eberle has a career coach at Nazareth for each of her majors, and they'll continue to be resources after she graduates.
"Going in with a blank slate, you can be open to all the options. Think about the skills you have, the interests you have. When you start taking classes, see where those take you. Then you can open those doors, from the inside out."
---
*UPDATE: The same month she graduated, she started work at Haley Marketing Group as a digital marketing specialist.