2022 Senior Class Gift Campaign
Congratulations Class of 2022!

You did it! Welcome to the Nazareth Alumni community!
Any gift made by a senior, of $5 or more, counts as participation for the Senior Class Gift Campaign. Most seniors give $20.22, but we ask that you celebrate our graduating class at a level that is comfortable for you.
With a gift of $20.22 before June 30, you will receive a special 2022 Nazareth College stemless wine mug (hot/cold beverage)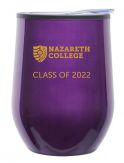 You may pick up your campaign incentive gift in Kathy Miller's office, GAC 394 on a Monday or Tuesday between the hours of 8 a.m. - 4 p.m. or contact her at kmiller21@naz.edu or 585-389-2418 for other options.
CAMPAIGN INCENTIVES SPONSORED BY THE CLASS OF 2022, Student Engagement and Institutional Advancement departments.

Senior Nest Showdown Champions!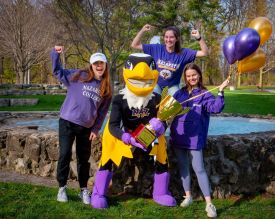 Nazareth Seniors - WE DID IT!
The challenge ended on April 18. With your support, Nazareth's Senior participation was 34% and Fisher was 19%.
As the winning school, Nazareth Senior Gift Campaign will receive a $2,500 donation from Fisher/Nazareth alumni couple, Tom '71 and Sandy '71 Bowles.

FAQ
How do I make sure my senior gift counts towards the Senior Class Challenge?
What is Naz Giving Day?
How do I make a gift on Naz Giving Day?
What if I want to make a gift before Naz Giving Day?
What are the areas that the Nazareth Annual Fund supports?