2021 Senior Class Campaign
This is the time - what will you do to help future Golden Flyers?

When: NAZ GIVING DAY, April 21, 24 hours, from 12:00 a.m. to 11:59 p.m.
How: On April 21 make your gift to the area of campus that matters most to you. Visit givingday.naz.edu to make your gift online, or stop by the Shults Center main hallway between 10 a.m. and 7 p.m., or call 585-389-2418

from 7 a.m. to 10 p.m.
Help your class meet the goal by sharing a link to make a gift via social media or email.

Senior Class Campaign
Our goal: 250 Class of 2021 donors by midnight on April 21
This is an opportunity to join together as the Class of 2021 to raise money to help support, enrich, and enhance the experience of current and incoming students.
Your gift in celebration and support of the Senior Class Campaign is your chance to continue the tradition of giving back to fellow Golden Flyers.
Your Campaign Incentives
Support the Senior Class of 2021 Campaign with a gift of $5 or more and receive a Nazareth key chain!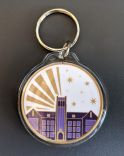 Give a gift of $20.21 and receive a Naz logo stemless stainless steel wine cup!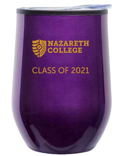 You may pick up your campaign incentive gift in Kathy Miller's office, GAC 187 on a Monday or Tuesday between the hours of 8 a.m. - 4 p.m. or contact her at kmiller21@naz.edu or 585-389-2418 for other options.
 CAMPAIGN INCENTIVES SPONSORED BY THE CLASS OF 2021
FAQ
How do I make sure my senior gift counts towards the Senior Class Challenge?
What is Naz Giving Day?
Why should I participate in Naz Giving Day?
How do I make a gift?
What if I want to make a gift before Naz Giving Day?
What are the areas that the Nazareth Annual Fund supports?

Senior Class of 2021 Gift Committee
"Join us in this time-honored tradition! We invite you to give to the Senior Gift Campaign to make a difference for future Naz students. Meet our Senior Class Campaign goal of 250 gifts by midnight on April 21. We are committed to bringing together our classmates to give back to the College ensuring that all seniors have the opportunity to leave their mark."
Senior Class of 2021 Committee - left to right: Grace Caternolo, Aubrey Hillman, Brandan Parks, Kevin Brown, Natalie L'Hommedieu, Madison (Maddy) Robbins, Emily Heberger, Gabrielle (Gabby) Bradley, Caelie Flanagan, Julianna Pollicino

Not Shown: Emily Welch