Art Therapy Clinic
Art therapy uses creative visual expression as a form of communication to expand self-awareness. It can help individuals to resolve conflicts, develop interpersonal skills, manage behavior, reduce stress, increase self-esteem, and achieve insight. Art therapy can be used as both a primary and adjunctive treatment modality.
Art therapists are licensed mental health professionals trained in art and psychotherapy. They are trained in assessment, research, and treatment, as well as in the use of art as a therapeutic intervention.
Student Clinicians
Potential Clients
Session Schedule
Referrals
Fees
Location
Parking
Map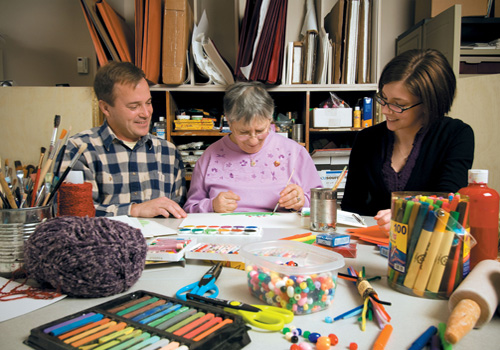 Prospective clients
Please note that there is a waitlist but you are welcome to call and provide us with your information, if a spot opens.
Current Clients
For appointments, cancellations, and messages to art therapists:
Please take a moment to download and complete the following forms prior to your first appointment:
You're welcome to print your completed forms and bring them to your first appointment -or- email them electronically to ekrenic0@naz.edu.