Alumni Awards 2023
Outstanding Alumni Award
Dr. Bianca DeJesus '11
Dr. Bianca DeJesus (she/her) serves as the Director of First Year Programs in the Dietrich School of Arts and Sciences at the University of Pittsburgh. Prior to the University of Pittsburgh, she worked at Carnegie Mellon University as the inaugural Associate Director of Student Outreach and Support. She is a higher education advocate and champion for students from marginalized backgrounds. Her current professional role and research interests focus on centering inclusion, equity and belonging in the creation, implementation, and facilitation of high impact practices within higher education. As an Afro-Latina and first-generation college graduate, she seeks to elevate the experiences and voices of low-income, first-generation college students of color throughout academia. With over ten years of experience as a practitioner, Bianca has worked at numerous institutions where she could be an agent in the monumental task of eliminating barriers to high quality education and degree attainment. In addition to her work as a practitioner, Bianca has had the opportunity to publish research and  speak at local, national and regional conferences to share her experiences with diversity, equity, inclusion and justice work.
She credits her time at Naz as the most formative time of her life. Her first time leaving the country was at Naz, she went to New Orleans for Hurricane Katrina relief work with Jamie Fazio and she served the Naz community in many different student leadership  roles. Dr. Kim McGann introduced her to the concepts of sociology, social identity and social systems and this ultimately would become the foundation of her life's work. After Naz, she graduated from the University at Buffalo with a master's degree in higher education administration and a doctorate degree in social and comparative analysis of education from the University of Pittsburgh.
Outside of work, she enjoys indoor spinning, traveling, dancing and reading.
---
Outstanding Alumni Award
Dr. Jeffrey M. Green '07G
Jeff is a lifelong resident of Rochester who has devoted his career to serving others in the local community through education. He initially graduated from Ithaca College in 2005 with a Bachelor's of Science degree in Business Management and worked in sales. At the prompting of his mother, he chose to go back to school to become a teacher and Nazareth's Business and Marketing Education program was the perfect fit. He completed his Master's of Science degree in 2007 at Nazareth and began his teaching career in the Rochester City School District.
While teaching at the middle and high school levels in the RCSD, Jeff also served as an adjunct lecturer at Nazareth from 2008-2012 in both the School of Education and the School of Business. During this same time he completed his doctoral studies at the University of Rochester's Warner School of Education, earning an Ed.D. in Teaching and Curriculum while conducting research that focused on his work with pre-service teachers at Nazareth. He also went on to earn Certificates of Advanced Study from the University of Rochester in School Building Leadership and School District Leadership. Dr. Green then transitioned from the classroom to school leadership, having served as the Associate Superintendent of the Diocese of Rochester, an assistant principal at Greece Athena, principal of Greece Odyssey, and most recently as the principal of Hilton High School for the past five years.
Dr. Green credits his time at Nazareth, and specifically the mentorship of Dr. Robert Marino, the Chair of the Business and Marketing Education program, for inspiring his passion for helping others through education. His personal philosophy centers on education being the key to improving one's life, and so guaranteeing access and equity to a high quality public education for the youth in our community will improve our society. Jeff and his wife Erica live in the North Greece area of the Hilton Central School District with their two children, Avery and Quinn, who attend Hilton schools and keep them busy with various activities.
---
Outstanding Alumni Award
Cindy Estruch Lowenguth '73, '76G
Growing up in Mt. Morris, a small town about an hour south of Rochester and in a big family (5 sisters and 1 brother), Nazareth seemed like the perfect fit for Cindy when deciding on a college back in 1969. And it was! The welcoming atmosphere and the friendly faculty and student body were just the right place for this small town gal. A stellar education coupled with the hands-on experiences of volunteer work in the community that Nazareth not only provided, but continues to this day, remain a Hallmark of this beloved institution. These experiences helped to build a solid foundation and shaped Cindy's decision to be an elementary teacher. 
Cindy feels she was blessed beyond measure to have parents who instilled in all of their children a strong work ethic in a loving and caring home. Her mother always stressed that getting a good education would give each of her siblings the foundation to be independent and follow their dreams. Two of Cindy's sisters continued the Nazareth legacy, each maintaining lifelong friendships with their Naz classmates as well.
Cindy's student teaching experience in Penfield, led to a teaching position in the district. After 10 years with PCSD, she had the opportunity to live and teach at the International School in Dusseldorf, Germany for 2 years. It was a life changing experience offering ample opportunities to travel and work with families and fellow teachers from all over the world. Returning to Penfield, she served on the Cultural Arts Committee and the District Math Committee. As the Elementary Math Coordinator for the District, Cindy had an opportunity to work with school administrators throughout the Greater Rochester area in the area of math pedagogy through the University of Rochester. There was no more rewarding career than teaching. Touching the lives of children and families has had a ripple effect. Cindy still stays connected with many of my former students and their families. 
After a very fulfilling 33 year career in education, Cindy retired in 2006. From 2007-2021, she worked in real estate, mainly at Rivers Run, a 55+ townhome community along the Genesee River affiliated with RIT. Also, during that time, she was a leasing agent for loft apartments in downtown Rochester. Education and real estate are both people professions that serve and help others….what could be more important than families and children and the homes where they live. 
Cindy and her husband, Gar, have had the privilege of living in the Preservation District in Rochester and have restored many homes in the neighborhood. From 2007-2010, she served as a Sector Leader for the 5th Sector in the City of Rochester helping to secure grants to improve the neighborhoods and working with City Government as a community liaison. The two of them have hosted many Landmark Society of Western NY Home and Garden tours. Caring for their homes and gardens has been a passion they both share. They often say that they are not the owners of these beautiful historic homes, but the caretakers.
Cindy's tenure on the Nazareth alumni board where she served as president from 2000– 2006 helped to deepen her connection to a place that had a profound impact on who she is and the career choices she has made. Cindy says, "to have served has been an honor." 
Cindy's passions include cooking, sharing recipes and trying new dishes and opening our home to guests. Because of her husband's career in real estate, they have met and shared a meal with so many interesting people throughout the years.
Spending time with her family, especially her nieces and their children, brings immense joy and fulfillment to Cindy.
Spending time with friends and sharing a meal, a walk, or a conversation sustains her. Cindy feels so blessed to have many dear friends, the "Naz Galz" and cherished friends from her time in education.
She loves to play Bridge and Scrabble and solve crossword puzzles. She says, "this keeps me on my toes and the gray matter from declining!"
Embracing life-long learning by trying a new recipe, reading a new book, planting a new species of flower, meeting new people, traveling to new places and listening, listening, listening with an open heart and mind continue to foster a curiosity about life and bring such joy.
Cindy is "forever grateful and immensely humbled by this honor….and a bit embarrassed."
---
Outstanding Alumni Award
Anne Ulrich McCaffrey '89
Anne received a bachelor's degree in political science with a minor in French from Nazareth and went on to obtain a master's degree in public policy analysis from the University of Rochester, with a concentration in health policy. Anne was recently named the chief executive officer of People Inc., one of western New York's largest nonprofits with more than 4,000 employees, serving more than 12,000 people with intellectual and developmental disabilities, families, and older adults throughout western New York and Rochester.
She was elected to the school board and common council in Lockport, New York, and was the Lockport mayor from 2014 to 2018. While mayor, she led a reform of the city's ethics policies and led the city out of fiscal distress. In 2018, she was named president and CEO of Eastern Niagara Hospital in Lockport, where she facilitated a successful restructuring and transaction with Catholic Health to keep hospital services in Niagara County. Before that, she spent 19 years in various positions at Lake Shore Behavioral Health, now BestSelf Behavioral Health, an outpatient mental health and substance abuse provider in Buffalo. There she led a successful effort to secure funding for the construction and development of Harambee House, Buffalo's first "safe haven" residence for 12 homeless individuals with serious mentally illness.
Anne is a member of the New York state Legislative Ethics Commission, and has served on several non-profit boards of directors and is a member of local service clubs, including Rotary and Zonta. She has received numerous awards, including Elected Official of the Year from the WNY American Public Works Association, Woman in Public Service Award from YWCA of Niagara, Buffalo Business First - Power 100 Women, DeSales Catholic High School Distinguished Alumni Hall of Fame, and a key to the City of Lockport.
She is married to fellow alum, Chris McCaffrey '87 — whom she met on her first day at Nazareth in 1985 — and they have three children.
---
Outstanding Alumni Award
Kathleen Ryan '00, '05G
After graduating from Gates-Chili High School in 1972, Kathleen enlisted in the Army in 1974. She served as a Russian language tactical field interrogator, interviewing Soviet citizens who had escaped or emigrated from the Soviet Union. She served with the 18th Military Intelligence Battalion, 66th Military Intelligence Group in Munich. She was one of the first American military female interrogators to serve in this position, achieving the rank of Specialist 5th Class. She was honorably discharged in 1977. During her service, Kathleen was the first female member of the US military to be awarded the Leistungsabzeichen Medal (Bronze) of the German Federal Armed Forces, for achievements in troop training.
Kathleen earned her B.A. in 2000 (Magna Cum Laude), a B.S. in Social Work in 2002 and her M.S.W. in 2005 and is a member of the Phi Gamma Mu Phi Chapter International Honor Society in Social Science. After graduating, Kathleen began working for Unity Health on the Healthcare for the Homeless Program, enacted by the federal McKinney-Vento Homeless Assistance Act. She then started her work with the veteran population at the Rochester VA Outpatient Clinic in Health Care to Homeless Veterans Program. She transferred to the Batavia VA Medical Center and worked in Primary Care medicine as a medical social worker, assisting VA patients with multiple psychosocial issues including obtaining VA benefits and dealing with the difficulties of reacclimating to civilian life. Kathleen was also a field instructor for MSW graduate students at the University of Buffalo.
Her service extended beyond the workplace; she took personal calls at all hours of the day from clients and referred many veterans for help with PTSD and substance abuse treatment. As a veteran herself, Ms. Ryan was able to create close bonds with her patients and has received many personal letters of gratitude from them.
Kathleen has received many honors: Certificate of Meritorious Service 1977; Leistungsabzeichen Medal (Bronze) of the German Federal Armed Forces 1977; Phi Gamma Mu Phi Chapter International Honor Society of Social Science; Salvation Army Founders Award 2005; Spirit of Planetree Caregiver Award by Bayhealth 2009; Hal Kreter Award from the Genesee Veterans Support Network 2014; National Veteran of the Day 2020. She also has received letters of accolades from Senator Kirsten Gillibrand and Congressman Chris Collins - the letter reads "with decades spent giving back to the community you have made an impact on countless lives ... and... our community a better place to live." She currently is a sitting member of the Board of Directors of H2H/S2S (Heel to Heal/Sole to Soul), a 501C-3 organization dedicated to providing wounded warriors the opportunity to heal from the wounds of combat. She is a member of the American Legion and Vietnam Vets of America, Chapter 193.
Kathleen is married to her husband, Stephen Mortimer; the couple lives in Pittsford and between them have three children and four grandchildren.
---
Outstanding Alumni Award
Sara Colacino Visingard '01
After graduating from Nazareth in 2001 with a Bachelors of Arts in Economics and a concentration in Pre-Law, Sara attained a Juris doctorate degree from Syracuse University College of Law in 2004. She commenced employment at Harris Beach PLLC in 2004 and is a partner of the firm today, in the Labor and Employment and Educational Institutions practice groups.
Sara represents and counsels educational institutions, including many local school districts and BOCES, with respect to student issues, day-to-day operational issues, board of education issues, and labor and employment matters. The most fulfilling aspect of Sara's work with school districts and BOCES is representing boards of education in employee discipline proceedings toward the goal of keeping students and staff safe.
Sara counsels public and private sector employers regarding all aspects of labor and employment law. She frequently presents seminars and provides training sessions on employment and education related issues. She also assists employers with the development and revision of employee handbooks and policies.
Sara's work includes the defense of clients against complaints and charges brought in administrative forums, such as the State Division of Human Rights, the Equal Employment Opportunity Commission, the federal and state Departments of Labor and the federal Department of Education's Office for Civil Rights. She also defends school districts and BOCES against appeals brought before the Commissioner of Education.
Sara is the current chair of the Monroe County Bar Association School Attorneys Committee and past president of the New York State Association of School Attorneys. She currently serves as co-chair for the Rotary District 7120 Membership Committee, is a director for the Child Advocacy Center of the Finger Lakes and is president-elect of the Victor-Farmington Rotary Club.  Sara is a past president of Rotary's Camp Haccamo, as well as the Fairport Rotary Club.
Sara is proud of the tradition that her mother Suzanne (Arnitz) Colacino (Class of 1968) started and her daughter Bailey Sue Visingard will continue, commencing her education at Nazareth in the Fall of 2023.
---
GOLD Alumni Award
Shane Fuentes '18
Shane graduated from Nazareth in 2018 with a bachelor's degree in Biochemistry and was the recipient of the Sr. Therese M. Lang Biochemistry Award. He adored his time at Nazareth, saying that the relationships he made with his professors and peers, as well as the opportunities afforded to him by the institution, allowed him to cultivate his sincerest passions of youth development, education, and mentorship.
Upon graduation, Shane was awarded a Fulbright Scholarship. He spent the following year on a small Taiwanese Island called Kinmen, where he worked as an elementary English Teacher and a high school basketball coach. During this year, Shane and his peers authored an English language learning children's book called, Where in the World did the Wind Lion Go?
After finishing his year with Fulbright, Shane matriculated as a medical student at the University of Rochester School of Medicine and Dentistry. During his first year of medical school, he served the Rochester community directly during the height of the Pandemic by assisting with Foodlink's Emergency Food Distributions across Monroe County and adapting the Curbside Market, a mobile farmers market, to be safe and effective, ultimately serving thousands of patrons.
In subsequent years, Shane dedicated enormous amounts of time to mentorship and pipeline programming for underrepresented students. He expanded an existing undergraduate program, the UR PreDoc Program, that provides mentorship, medical education, and professional development workshops to marginalized learners. And, with like-minded peers, he developed a city-wide pipeline program, the URMC Bridge Mentorship Hub, that connects learners (high schoolers to medical students) to clinical and research mentorship opportunities across multiple hospital departments.
Inspired by his time coaching in Taiwan, his love of education, and his passion for mentorship, Shane created a successful community-based organization called Crossovers & Conversations. The program uses basketball as a platform to have meaningful health discussions with teens in Rochester. So far, the program has served over 100 teens, entirely for free, and is continuing to grow.
After medical school graduation this May, Shane will travel to the other Rochester, where he will begin his career as a resident physician in the field of Physical Medicine & Rehabilitation at the Mayo Clinic.
---
Sports Hall of Fame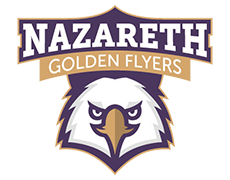 Each year, Nazareth honors some of the best ever to don the purple and gold. More than 100 alumni, coaches, and administrators, along with three national championship teams, have been inducted into the Hall of Fame.
View the announcement with the 2023 Sports Hall of Fame Inductees