Security Escort Alarm
A Security Escort alarm is a small key-chain-sized unit. When activated in an emergency, it enables campus safety officers to locate and assist whoever activated the device. The alarm can be used anywhere on campus for:
Known medical conditions
Medical emergencies
Automobile accidents
Witnessing a concern
Threatening situations
Physical confrontations
Being stalked/followed/chased
How do I get my security escort alarm?
Who should get one?
I already have a security escort. Do I need to do anything else?
Welcome New Students
Security Escort Alarm - Get it now!
Complete the online application form now to get your security escort alarm on your first day. Just pick it up from the Campus Safety Office located at 21 Shults Center.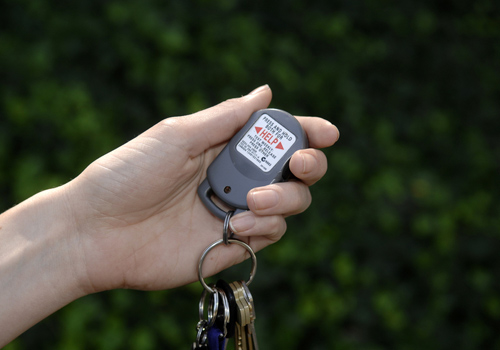 The Security Escort alarm is available for free to any student, staff, or faculty member. It is designed for emergencies and works only on Nazareth College's campus. Simply fill out this application.