Jenn Lachell '15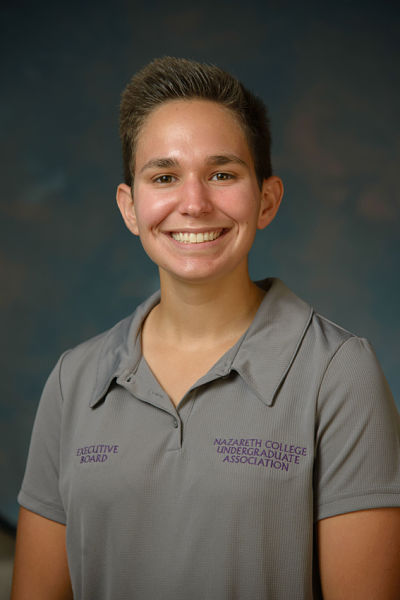 What was your major at Nazareth?
Marketing with a minor in Information Technology
Tell us a little bit about yourself.
I am from Waterford, NY, just a few minutes north of Albany. I am a very passionate, determined and purposeful person who enjoys a lot of things in life. You'll probably never see me sitting down and relaxing because I like to be involved. Besides the serious things I talk about below, I love being physically active, reading a good book and enjoying time with friends.
What internships and activities were you involved in?
Marketing and Communications department media relations student worker: I worked with my supervisors to write press releases for the college as well as publish event submissions to be displayed on the College's website. I also wrote Merit badges for students so that they can keep track of their achievements, such as Dean's List, athlete honors and/or honor society honors.
Student Ambassador at Admissions: Follow me on twitter @j_lachell! I tweet about events and general Nazareth and Rochester information for prospective students as well as write blog posts.I also gave tours to prospective students.
President of the Undergraduate Association
Events and Marketing Intern at the Ad Council of Rochester, where I assisted in the promotion and logistics of the agency's two major events. Other tasks included updating the website, attending professional development opportunities, and providing an extra set of hands where/when needed.
Women's golf team
Mohawk Global Logistics import intern: I did this internship over in the summer of 2014 and I worked on a team of four and focused on the importing for one of their major clients. I collected data for new shipments and then tracked them until they came to the U.S. Then, I would clear them through customs and complete any paperwork needed for the client and/or shipment.
How did you get involved with Career Services and what resources would you recommend to other students?
I got involved with Career Services my freshman year at Nazareth when I decided I wanted to switch my major but didn't know where to start. I went in and talked to a counselor and they had given me some online questionnaires to take. Once I took these, I went back in to analyze the results, which consisted of understanding my skills and interests I already possessed as well as what fields I could apply them to. After that meeting, I felt very confident with going through and switching my major. The following year, I decided I wanted to start looking for internships because I had always been told it's never too soon to start applying. I began building my resume and cover letter that year as well as took advantage of the mock interview. Since then, I have gone back about 3-5 times a year to keep my resume and cover letter updated as well as for career advice.
I recommend doing a mock interview, especially sooner rather than later. Although I didn't have an interview until six months after my mock interview, it was a great way to get prepared for when the opportunity arose. It forced me to understand my nervous habits and gave me enough time to overcome those as well as prepare strong answers to interview questions. I also recommend asking them for help with your LinkedIn profile. Although it's a form of social media probably something my generation should be great at, there are a lot of ins and outs of the website that can be difficult to discover and understand on your own. With that being said, the counselors can show you how to use each widget to its maximum use.
I also recommend going to Career Services about any general career questions because it allows you to create relationships with the counselors. The counselors then know who you are and are able to help push you in the right direction since they understand your interests and have seen you grow.
What did you like most about being a Nazareth College student?
I love the relationships I've built over the years, both with fellow classmates, friends, faculty, and staff. It seems to be that everyone wants to see you succeed and that has inspired me to push myself to be the best that I can be. There are many opportunities at Nazareth, some may require some digging around, but they prepare you very well for the future. I can honestly say I am extremely proud to be a Golden Flyer and graduate from Nazareth excited to enter the workforce because I felt prepared.
What are your plans for the future?
In May 2015, I started a full-time position as a Sales Development Representative at Skyhigh Networks. In the next 3-5 years, my plan is to continue working and I'd like to remain in a career environment where I can make a difference in the world. Skyhigh allows companies to securely adopt cloud services - decreasing the chances of data leakages or breaches (there's a lot more that goes into it but this is the gist of what we do). To me, we are making positive impacts for many companies as we are protecting their data. I've always had a passion for making positive impacts and I'm hoping my career path allows me to continue to do this. I'd then like to go back to get a master's degree - potentially an MBA program with a concentration in leadership. I greatly enjoy learning and I feel like continuing education will make me a valuable player in the business world