LifePrep@Naz
LifePrep@Naz is an innovative program designed to provide students with intellectual and developmental disabilities with a college experience, strengthening their life skills, vocational skills, self-sufficiency, and independence. Created through the collaborative relationship among Nazareth, Victor Central School District, and The Arc of Monroe, the LifePrep@Naz program thrives on the passion and commitment of all involved parties.
Through campus employment, Nazareth students serve as mentors to the LifePrep students, providing consistent peer-to-peer interaction. The mentors assist and support LifePrep students in LifePrep and Nazareth classes, and accompany them to lunch, as well as their on-campus and off-campus vocational experiences. 
LifePrep students are fully immersed in campus life, including but not limited to:
Enrollment in a Nazareth course,
Involvement in clubs & organizations,
Attendance at college functions and athletic events,
Internship on campus, and
Participation in Commencement upon completion of the LifePrep program.
Interviews with LifePrep Students
What's your favorite part of being a Naz student?
What's your favorite part of having a mentor?
What's your favorite part of the LifePrep program?
Eligibility
For information regarding eligibility, acceptance criteria, and applications for LifePrep,:
Tours
Tours of LifePrep are offered twice a year, in October and January.
EXPERIENTIAL LEARNING
LifePrep@Naz is an approved pathway for Experiential Learning, which is one component of the Uncommon Core at Naz.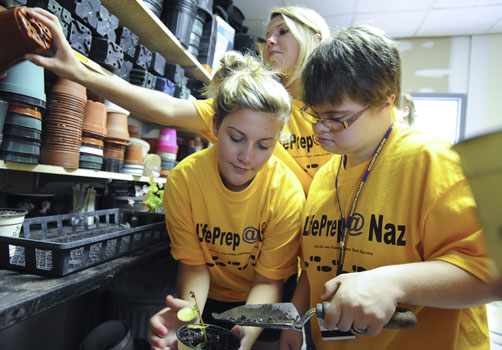 Day of Service
Life Prep students and Naz mentors participate in the fall Orientation's Day of Service.
Interested in Becoming a Mentor?
The 6 Duties of a LifePrep@Naz Mentor
Naz students: Who to contact
LifePrep is committed to the full inclusion of all qualified student mentors. As part of this commitment, LifePrep will ensure that persons with disabilities are provided reasonable accommodations. If reasonable accommodation is needed to participate in the job application or interview process, to perform essential job functions, and/or to receive other benefits and privileges of employment as a student mentor, please contact Nuala Boyle.