Keith Koster
Contact Information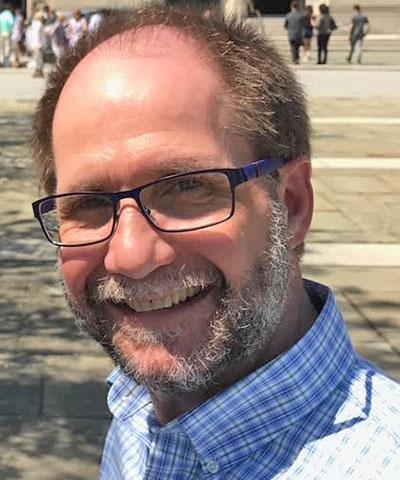 Keith A. Koster

Associate Professor in School of Music
Getting hooked on music
Who would have thought that the sounds of beginning band students would spark a passion for a lifelong career in music? It did for Keith Koster. "I remember sitting there with my fellow fourth graders completely focused on the sounds that the students were producing with their instruments. The piece was entitled Safari."
Prior to that, Dr. Koster remembers some amazing experiences in first and second grade general music, learning music the Kodály way (a music education approach developed in Hungary during the mid-20th century by Zoltán Kodály) with Mrs. Stromburg. "Music class was really one of my favorite classes since probably kindergarten."
"Fortunately for me, my music teachers allowed me to play many different instruments — which probably frustrated them a great deal. That said, I'm grateful that they allowed me to explore and learn more about music."
Increasing his expertise
After his undergraduate work at Quincy College (IL), he completed his master of music degree in bassoon performance at the Jacobs School of Music at Indiana University, Bloomington. He taught general music in Illinois and instrumental and choral music in Missouri. Five years later, he entered the doctoral program in music education at the University of Missouri, where he was offered a fellowship to perform as a member of the Buder Woodwind Quintet. "Working with Dr. Wendy Sims there was literally a game-changer for me."
In addition to pursuing his Ph.D. in music education, he studied the woodwind instruments (flute, oboe, clarinet, and of course, bassoon) and played bassoon and contrabassoon in the university's ensembles. After completing his doctorate, Dr. Koster taught at colleges and universities in Pennsylvania, Oregon, Virginia, and then at Nazareth. "Teaching at Nazareth College was like coming home for me. It's great to work in such a large department with so many very talented faculty, students, and area music educators and their students. Rochester is an exceptional community for music and music education."
Dr. Koster is the state collegiate advisor for the New York State School Music Association (NYSSMA) as well as the local chapter advisor to the C-NYSSMA/NAfME organization on campus (www.nyssma.org & www.nafme.org). He is also a college ambassador to the New American Colleges and Universities consortium (www.newamericancolleges.org) and has coordinated the annual Music Education Week at Nazareth College since 2010. He also belongs to music organizations such as the Organization of American Kodály Educators (www.oake.org), Dalcroze Society of America (www.dalcrozeusa.org), American Orff-Schulwerk Association (www.aosa.org), Society for Research in Music Education (www.nafme.org), the National Association for Music Education, International Double Reed Society (www.idrs.org) and the New York State School Music Association (www.nyssma.org).
"An eclectic approach... prepares you for just about anything"
Professionally, Dr. Koster has performed extensively and is the founding member of the Wilmot Wind Quintet. He regularly adjudicates as well as presents papers & sessions about music teaching and learning at conferences at the state, region, national, and international venues. He is published in the Music Educators Journal, Kodály Envoy, and School Music News. He has also completed certification in Orff-Schulwerk and Kodály methods. "Having an eclectic approach to teaching music prepares you for just about anything."
"I enjoy watching our music education majors transform into well-prepared music teachers who can solve problems with a healthy sense of optimism, remain actively engaged in the arts, teach with passion, and inspire young people in the ways that Mrs. Stromburg, that elementary band, and so many others along the way inspired me."