Marcy Bacon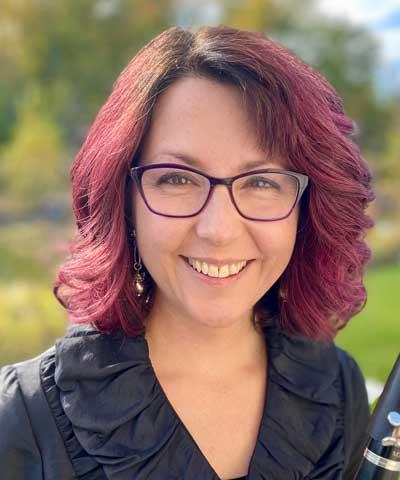 Marcy D. Bacon

Lecturer Applied Music in Music
Biography
Clarinetist Marcy D. Bacon joined the Nazareth College music faculty in 2008, where she teaches clarinet lessons, clarinet methods and directs the Nazareth College Clarinet Ensemble. In addition, she is the clarinetist for the faculty ensemble, The Wilmot Wind Quintet, which performs regularly and recently presented a session at the New York State School Music Association Winter Conference.
Dr. Bacon has taught applied clarinet at the Hochstein School of Music and Dance since 2006 and was the director of the Hochstein Clarinet Choir for three years. As a member of Hochstein's faculty, Marcy performs with ensemble.twenty.21 and is the clarinetist for Fem Vindar [a woodwind quintet].
As a member of the flute/clarinet duo VocaSynth, Marcy premiered Cylindrical Sea by Russell Scarbrough at the 2012 National Flute Association Convention in Las Vegas, NV. She earned a Doctor of Musical Arts degree in Performance and Literature from the Eastman School of Music in 2008 and holds a Master of Music degree from Michigan State University, as well as a Bachelor of Music degree from Portland State University in Portland, Oregon. Principal teachers include Kenneth Grant, Elsa Ludewig-Verdehr and Stan Stanford.
Prior to joining the faculty at Nazareth, Marcy taught applied clarinet and clarinet methods at SUNY Fredonia for seven years and was a member of the Western New York Chamber Orchestra. In addition to performing and teaching clarinet, Dr. Bacon holds Early Childhood and General Music Level I Certification from the Gordon Institute for Music Learning (GIML) and previously served as historian for GIML National. Additionally, Marcy is a founding member of the New York State Chapter of GIML (NY-GIML).
Dr. Bacon has presented at the NYSSMA Summer and Winter Conference on the topic of audiation as it pertains to both early childhood and instrumental applications. She has taught general music in the Jamestown City School District and for the Diocese of Rochester. Marcy can be heard on the Oregon Catholic Press label playing sacred music and compositions by Jacob Avshalomov.