My teaching philosophy
I believe that everyone has an innate sense of wonder and curiosity. My challenge as an educator is to tap into that curiosity and have students find out more about themselves, so they can develop their passions. What students end up being passionate about might not be what they thought they had talent for. At the collegiate level, our primary commitment should be to challenge students not only to learn new information, but to question some of their biases and become transformed so as to become change agents.
I strive to create equity in public health institutions
My academic passion is public health. I am particularly committed to cultural awareness and equity in all populations. With the arrival of the COVID-19 pandemic, this could be public health's shining moment. To me, public health is everything. In order to be a global citizen, it is essential to have knowledge about how both illness and disease, environment, water and air quality, the economy and political systems affect each of us as individuals and as a planet. The CDC identifies "One Health" as a deliberate, transdisciplinary collaboration at the local and global level to achieve optimal health for people, animals and the environment. COVID-19 does not discriminate against whom it infects, and striving to improve the public health of our society and community will, in turn, improve the health of us all.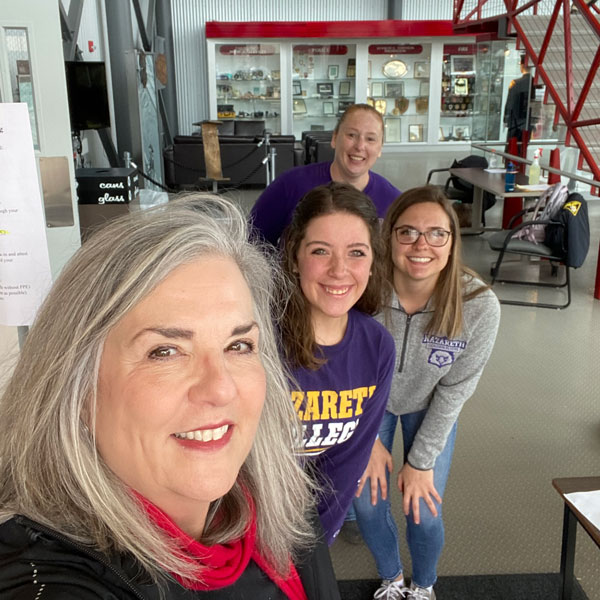 During the first weeks of response to the COVID-19 pandemic in the Rochester area, Mary Dahl Maher and 40 Nazareth nursing and public health students trained at the Monroe County Emergency Response Center for public health needs, such as making screening phone calls, preparing quarantine kits, and doing direct COVID-19 test swabbing. Health Heroes story >
Nazareth's public health major
At Nazareth, we have made the Public Health major accessible to every student, meaning that, as a double major, it can still fit into the usual four years of college. We have students who are psychology majors, dance majors, and nursing students. Our program includes students who are in physical therapy, students who are taking data analytics, and students studying education. When you look at public health through any discipline, you can see the intersectionality. How is movement related to health for dance majors? Social work double majors may look at advocacy in public health. The history education student will look at how to bring public health awareness into a second grade classroom. Whatever field you are in, public health awareness is essential to being a good global citizen. The ramifications of health awareness cuts across all disciplines. 
Why I stayed at Nazareth
I never planned on being in higher education. I came here to teach five lectures. There was a professor teaching a course on women, health and culture, who had to leave abruptly, and I was able to take over her course. I ended up falling in love with teaching. The reason I decided to stay and teach was because of the potential for global studies. 
The Nursing Department has a unique program with Laurea University in Finland. Students who participate in the program receive a degree in both countries, so they can practice nursing both in the US and European Union. Nazareth College has a strong liberal arts foundation and the strategic planning necessary for Nazareth students to become global citizens. Nazareth's commitment to social justice is also a strong attraction to me.
Fun facts
"I am a certified nurse midwife. I've had a private clinical practice for many years. I was a Fulbright Scholar in Finland in 2019," strengthening the bonds between Nazareth and Laurea University of Applied Sciences in Finland. Nazareth and Laurea have signed a Transatlantic Dual Degree cooperation agreement where nursing students can earn a dual degree after completing a study-abroad module. 
I have lived and worked in Mexico, Puerto Rico, rural Kenya, and Ireland. My master's in public health and doctoral research was looking at the perinatal outcomes of Latina migrant farm workers.