Nazareth Mobile App
This free mobile app enables students to do many Nazareth tasks in a mobile-friendly format — and the Events section (where you can set preferences) helps you get involved and connected on campus.
If you previously downloaded the Ellucian Go NazApp, delete that app and get the new Nazareth College app.
1. Download Nazareth College app. (Find Nazareth College in your app store/Google Play.)
2. Login. (Use your myNaz credentials.)
3. Customize. Set your preferences to indicate the type of Nazareth events you'd like to see as "recommended" for you. Change preferences anytime under the gear icon.
Get involved

Star events and add them to your mobile device's calendar to get reminders/notifications at the time you prefer. Also, if an event you starred is canceled or changes last-minute, you'll get notified.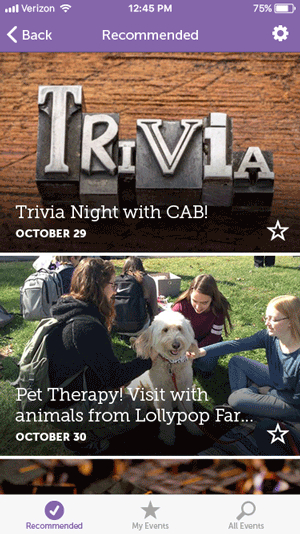 Manage your student life
From the home screen:
Register for classes.
See your grades.
Explore events.
Access Moodle (class learning software).
Handshake: Find jobs and internships.
Read campus news.
Finances: Securely pay your bill.
Announcements (from Nazareth)
From the menu (select the three horizontal lines in upper left), you can find other handy resources, such as:
Student Planning: See your course schedule.
Learn about student clubs — and how to start one.