Move In Fall 2023
Fall 2023
Key things to do
New students move in on August 23 between 8:30 a.m. and 12:30 p.m.
You can have parents, family members, or friends help you move into the residence halls. We encourage you to carefully consider how many people you bring to campus, to avoid excess traffic and congestion in the residence halls.
Review the list of what to pack and what's prohibited: What to Bring. 
To reduce lines at Nazareth's Central Mail Services at the start of the semester, please consider bringing most items with you instead of having them shipped ahead of time to campus, if possible.
Review the move-in process details below.
Move-in Process
Before you come
To move in, you must have uploaded your proof of vaccination to the student health portal. 
Connect with your roommates to plan who is bringing what.
Where to go
Entrance: Enter campus at the East Avenue stoplight onto South Campus Drive. Staff from 
Getting checked in: When you arrive on campus, go directly to your assigned residence hall. Residential Life staff will greet you and give you your room key. Resident Assistants (RAs) will also be available inside the hall over the weekend to answer questions, provide guidance, and assist with any facilities issues.
Unloading
Moving in: A move-in crew will be available to help move in your belongings. Please label your items with your last name, building, and room number. 
O'Connor 1 will have a designated traffic flow because of the narrow hallways. Follow the posted signs to help you navigate as you move in. We will monitor hallways in Kearney and Lourdes to avoid congestion. If a particular area starts to become too crowded, we may ask you to wait outside with your belongings until we can clear the congestion.
Parking: Once you finish unloading your car, please move it to a designated parking area. For you and your helper's convenience, a shuttle will run from P Lot to the residence halls throughout the move-in time blocks. You are strongly encouraged to only bring one vehicle to help reduce traffic, but are allowed up to two vehicles. 
Student ID Pick-Up 
Before Move-In: If you requested your ID and/or registered for your parking permit by mid-July, these items will be mailed to you in early August. If you request these items after August 1, you will get them from Residential Life at check-in on August 23. 
Day of Move-in: If you were unable to request these items in advance, you will be directed to a designated tent where Residential Life staff will assist you with taking your picture, filling out required forms, and sending the request to Campus Safety. You will be able to return to this tent and pick up your ID during Move-In time blocks.
Safety
Fire spraying: Bringing a wall hanging or curtains to campus? We will have fire spray locations around campus during Move-In weekend. On August 23, the fire spray station will be located near Medaille Hall.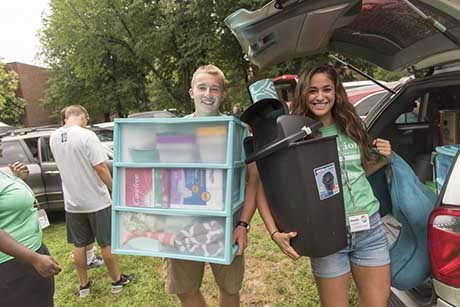 Welcome Home!