Fall 2021 Orientation
Welcome, incoming first-year and transfer students! Our fall orientation program takes place just before the start of classes, kicking off on August 26. The events, activities, and sessions planned will help you not only acclimate to campus but to feel at home here. We look forward to seeing you and officially welcoming you into the Golden Flyer family.
Orientation sessions are mandatory for all new students at Nazareth College unless marked by an asterisk or designated for a special population.
Note: Schedule subject to change.
Schedule
Thursday, August 26
Friday, August 27
Saturday, August 28
Sunday, August 29
Extended Office Hours
In preparation for the beginning of the semester, a number of key offices will have extended hours the weekend before classes start. These offices include Academic Advisement, Center for Student Success, Financial Aid, Registrar, Residential Life, Student Accessibility Services, and Student Accounts.
These offices will be open as follows:
Saturday, August 28, 9:00 a.m. - 4:30 p.m. (Residential Life only)
Sunday, August 29, Noon - 2:00 p.m.
Office Locations and Contact Information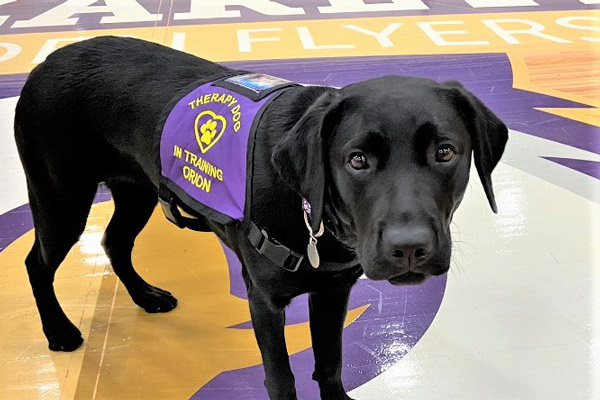 Therapy Dogs in Training
Throughout Orientation, look for Orion (pictured) and Rosie, two furry members of the Golden Flyer Family and therapy dogs in training. They love meeting people.