Early Acceptance to Medical School Excites Meredith Rasey '21
New Nazareth 3+4 and 4+4 partnerships with LECOM benefit incoming and current students
---
Meredith Rasey '21 wants to become a rural doctor, helping people like her extended family who haven't had easy access to health care.
So she both shouted with delight and got teary at the news: Through a new Nazareth College 4+4 partnership, she was already accepted to medical school as a sophomore in college. "I felt like Rocky, like I had just climbed the stairs. I was on top of the world," she says.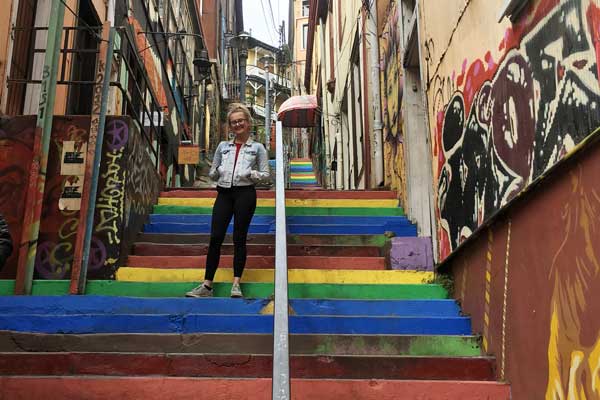 Meredith on colorful steps in the hilly city of Valparaíso, Chile, during her six-week pre-med international program.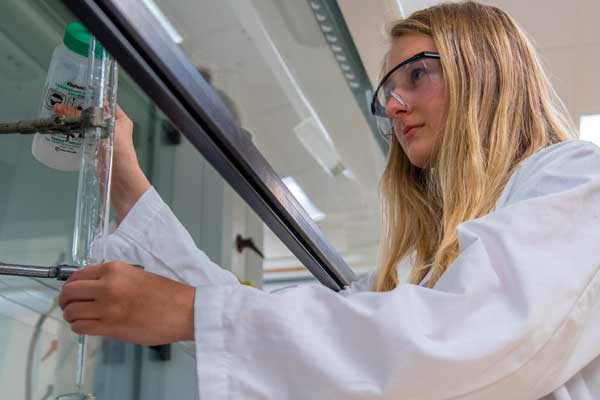 Meredith in the chemistry lab at Nazareth, home to multiple courses for biomedical science majors like her.
The programs are not only for Nazareth freshmen and sophomores. High school seniors applying to Nazareth for biomedical sciences also can simultaneously apply to Lake Erie College of Osteopathic Medicine (LECOM) in Erie, Pennsylvania for a 3+4 or 4+4 track. Students accepted by both colleges have a seat reserved in medical school before starting college, as long as they maintain high grades. The Naz-LECOM partnership also offers a 4+4 dental school program.
Rasey is thrilled to be admitted to LECOM, ranked among the best medical schools for primary care by U.S. News & World Report, because:
"It aligns with my values." She's from "a very poor, rural area" in Pennsylvania, she said. "My parents and my friends' parents and a lot of the adults in my life couldn't afford to go to the doctor or couldn't afford to miss work to go to the doctor." LECOM produces a lot of doctors who work in small communities.
The Nazareth-LECOM 4+4 program doesn't require the MCAT exam — meaning she doesn't have to devote hours during her junior year studying for the nearly 8-hour, 230-question exam. Instead, she'll have time to take more electives and further explore her interests. When she was accepted to LECOM, she was considering specializing in diagnostic work — able to solve tricky cases like on the TV medical drama "House." She also was drawn to adolescent mental health, since she has benefited from support for anxiety.
LECOM students earn a doctor of osteopathic medicine (D.O.) degree, which has a broader focus than an M.D. degree. "It's a holistic view of the patient and it's preventative in nature. They're more likely to refer out to a nutritionist, physical therapist, or counselor, to see how lifestyle is impacting their health — and can still assess, diagnose, and treat patients."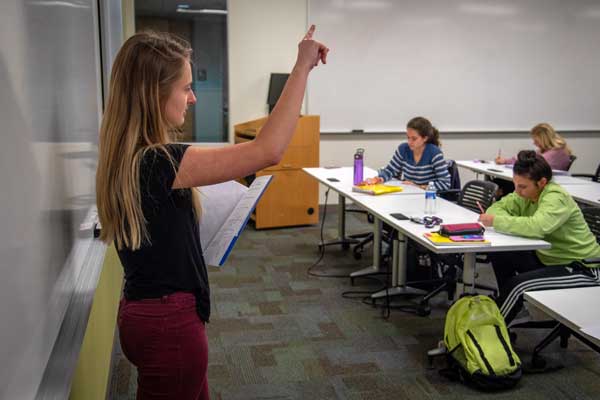 Meredith leads supplemental instruction for Organic Chemistry I students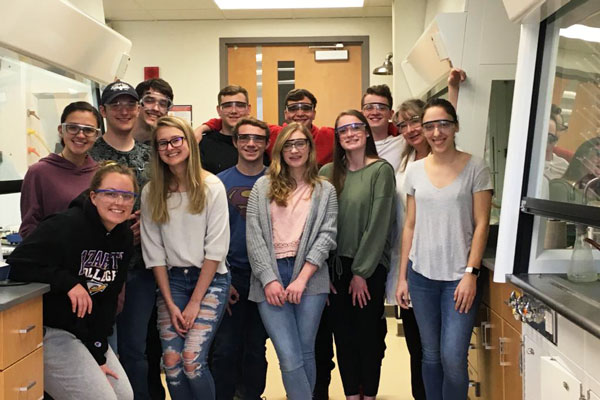 Meredith's Organic Chemistry II Lab class
In high school in Kane, Pennsylvania, she first thought of becoming a veterinarian, like her grandfather. She found Nazareth by searching online for pre-vet undergrad programs and discovering that Nazareth is one of the few to offer that specialty. In college, her focus switched to becoming a doctor for people; Nazareth also has a pre-med undergrad program, in which Meredith became actively involved.
The LECOM deal fits in with other Nazareth strengths, she says:
Support from faculty: "There's a lot of awesome guidance in our program." As early as NazBound Day for incoming students, her academic advisers have counseled students interested in pre-med about what to focus on at each stage of their education to be admitted to and successful in medical school. That guidance includes info on various resources available at Nazareth.
Support from peers: "Newbies have support from upperclassmen. They befriend you very quickly." While pre-med student cohorts at some other colleges see each other as competition, Meredith appreciates small classes and a supportive culture. "Student life in Peckham Hall is very close knit. It's never competitive. We know if we build each other up... we're trying to make sure everybody gets a chair in medical school."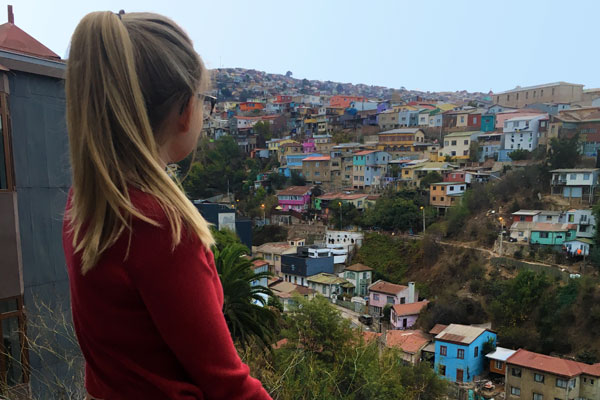 Meredith looking over Valparaíso, Chile's second largest city.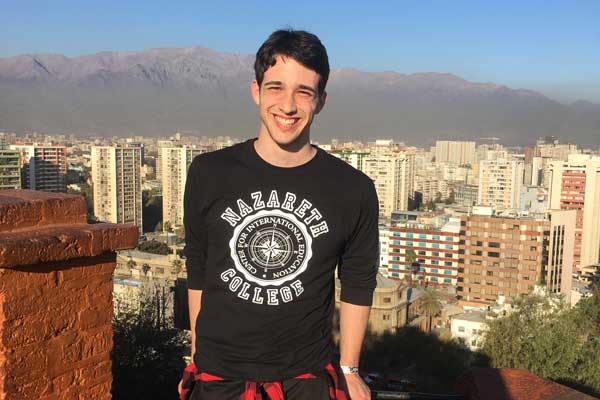 Sam Hunt, a fellow Naz biochemical sciences student, in Santiago, Chile, during their pre-med program.
Tutoring and studying help: "Nazareth is really good about providing extra stuff. Any extra practice is always beneficial. That's how you learn the sciences." Rasey received tutoring in biology — and got an A in the class — and then became a tutor for biology and chemistry classes. She's leading review sessions for organic chemistry during her junior year.
Leadership: As a sophomore, Rasey was secretary for the pre-health student club. "There's tons of leadership opportunities."
Transformational international experiences: After sophomore year, she traveled to Chile for a pre-med program that included tutoring English and shadowing doctors through the prestigious Universidad de Concepción.
Undergrad student research: With Amber Charlebois, Ph.D., her organic chemistry professor and pre-health profession advisor, Meredith is doing research that seeks to come up with a medical test to help diagnose autism. Meredith's brother — "my favorite person ever" — received that diagnosis based only on his behavior, which is currently the only way to identify autism.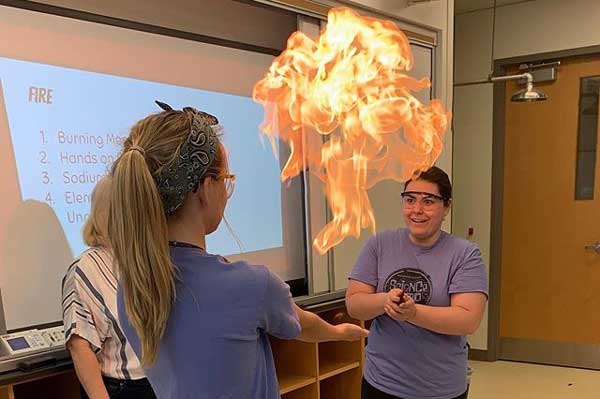 As part of her student job, Meredith demonstrates flammable gases during a super-hero-themed science camp.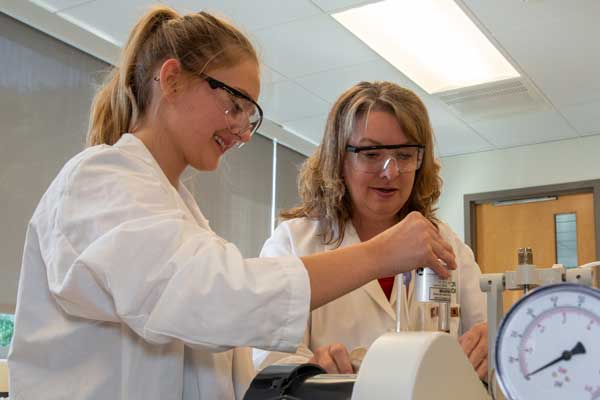 Meredith Rasey is pursuing research with Prof. Amber Charlebois, Ph.D., on diagnosing autism.
Her most amazing college experience so far was her six weeks in Chile along with fellow Nazareth pre-med student Sam Hunt. They shadowed doctors each morning at a hospital and tutored English to English-teachers-to-be each afternoon at the prestigious Universidad de Concepción across the street. Meredith spent a week each in rheumatology, dialysis, ICU, pediatrics, and obstetrics/gynecology.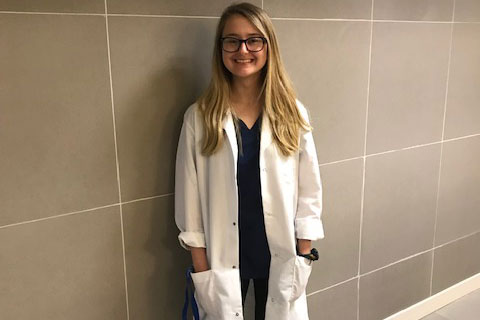 "I had just finished observing a C-section before this photo (in Chile). That was the moment I realized that I wanted to become an OB-GYN."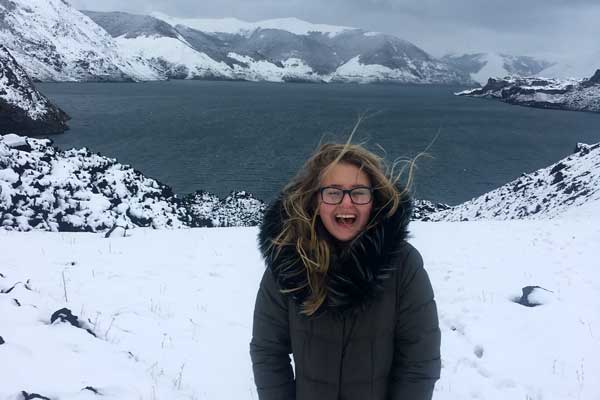 A weekend trip with fellow student Sam Hunt and one of their professors to the mountains in Antuco included snow. "It was a bit colder than we expected, but we had a lot of fun throwing snowballs," says Meredith.
During the OB-GYN week, she observed a C-section, watching a baby come into the world — and declared her love for obstetrics. "They let me scrub in and walked me through the process. It started with one patient in the room. The doctor made 3 cuts — and suddenly there were two patients, and the baby started crying," she said. "This trip showed me what I was actually passionate about."
A Nazareth SPARK Grant covered her flights and expenses. "That made the whole difference," she says. "That was not a trip I could have done without Naz sponsoring me."