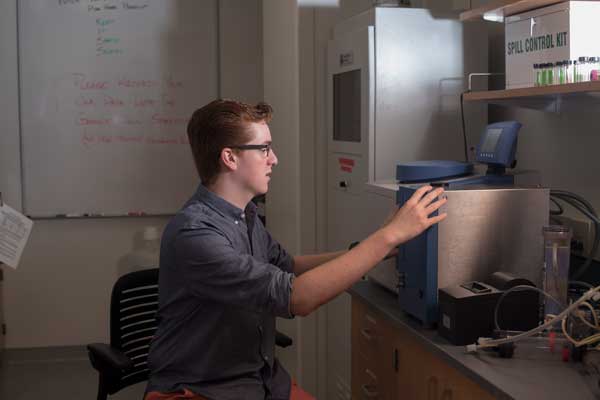 Erich D'Eredita '20 (Research)
"There's a joy in finding information that hasn't been known before," says biology major Erich D'Eredita '20, who spent 6 weeks on campus this summer analyzing the caloric value and composition of northern crayfish. The role was paid, but commuting 45 minutes both ways from home would have been an obstacle — until he got on-campus housing at very low cost through Nazareth's SPARK Grant program. He said the summer research advanced his proficiency with laboratory procedures and machinery, including computerized calorimetry, which is a plus for his plans to pursue grad school and future research. He would love to research the way life exists in the Great Lakes or Finger Lakes area — where he's from — and find a way to remove contaminants that are inhibiting life. "That's what I want to do. I've always loved nature." Considering climate change, he adds, "There's definitely an urgency."
Lily Caron '20 (Hungary)
Nursing and public health major Lily Caron '20 traveled to Hungary during spring break to present a paper about mental health to fellow college students. Big confidence boost to speak in front of a large international conference? Yes. But so much more. "My host student, Regina, gave me an invaluable experience as she took me horseback riding in the country, showed me a famous lookout of Lake Balaton, and taught me what the typical Hungarian college experience is like. She's already planning a trip to visit me in America and has invited me back to stay with her for two weeks this summer! I strongly believe that traveling with Nazareth College provides a chance to learn valuable lessons and make memories that will last a lifetime."