Nazareth Summer Art
For Teens 2019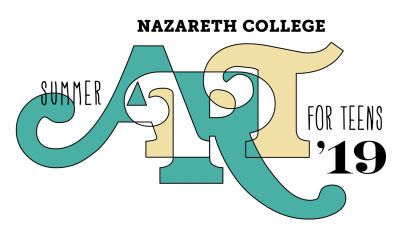 Summer Art for Teens is an intensive three-week summer program for students (ages 13 through 18) who have artistic talent and interest in the visual arts. Students have the opportunity to build their portfolios for college admittance. The session ends with a student art exhibition.
Classes are taught by two full-time Art Department Professors:
Prof. Mitch Messina - Ceramics (including Raku)and Sculpture
Prof. Ron Netsky - Drawing and Painting
Dates:

July 8-26, Monday through Friday from 9 a.m. to 2:30 p.m. in the Nazareth College Arts Center.
Registration:
$675 registration fee - includes all materials.
Preferred method: Pay online by clicking HERE.

Or register by phone, 585-389-2532
Or mail a completed registration form to: 
Nazareth College Art Department
Nazareth Summer Art For Teens
4245 East Avenue
Rochester, NY 14618
Deadline: June 15, but registration closes earlier if class is filled sooner and will be extended if not full. Registrations are processed in the order they are received. No refunds after June 1.
For more information, please call the Art Department at 585-389-2532 or 585-389-2539.