Spanish for the Health Professions
Description: Advance your career in health care by gaining skills to communicate about health care terminology in Spanish. This Spanish for the Health Professions (SPN 322) intermediate-level Spanish course is ideal for nurses, doctors, medical assistants, psychologists, counselors, and similar professionals working with Spanish-speaking patients and families.
Choose your preference:
Check with your employer for any tuition benefit.
Prerequisites: SPN*201 or 202, or equivalent proficiency (such as four years of high school Spanish).
If you are not sure if you are ready for an intermediate-level Spanish course you can take a free placement test. Contact Birgit Deir, bdeir9@naz.edu, at Nazareth's Language Lab to ask about taking the Language Placement Test as a non-matriculated student for the Spanish for the Health Professions course.
Format: Taught live. You choose:
Attend on campus (in Casa Hispana, with free parking just outside the building)
Or attend remotely via Zoom
When it meets: Tuesdays from 4 p.m. to 6:40 p.m., August 29 to December 5, 2023, followed by a final exam.
Instructor: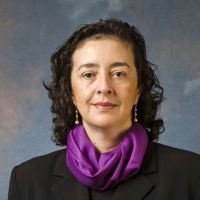 Dr. Hilda Chacón, Spanish professor and World Languages and Cultures Department chairperson, holds a Ph.D. from Ohio State University (1999) in Contemporary and Indigenous Literatures and Cultures of Latin America. Her research and publications focus on Mexico-USA cultural interactions, uses of cyberspace in Latin America, political cartoons, activism, gender issues, and post-war narratives from Central America. Her latest publication is Online Activism in Latin America (Routledge, 2019). She has been teaching Spanish for the Health Professions for several years. She earned a bachelor's degree in journalism and worked as a TV producer and a research journalist in her native Costa Rica.
How to enroll: Complete either the for-credit form or the course audit form: Community (non-matriculated) student
Questions? Contact Hilda Chacón, Ph.D., Professor of Spanish, Nazareth University Department Chair in World Languages and Cultures, hchacon6@naz.edu.