England
This experiential learning program, in partnership with Performing Arts Abroad, brings you to the heart of London! Explore the iconic arts scene through masterclasses with theatre professionals, and courses taught by distinguished faculty at the University of Roehampton, or study dance at the highest-ranked university dance program in the United Kingdom.
Program Highlights:
Designed to provide real-world, practical experience and training for performing arts majors at both the West End and Globe
"Dance Semester in London" classes are offered in a variety of styles and levels by renowned dancers from all over the world, including an official partnership with the Royal Ballet
"Industry Immersion Semester in the London Theatre" students have a choice of three distinct tracks: Musical Theatre, Acting, or Technical Theatre and Theatre Studies
Learn what it means to call London a home, while also taking cultural and educational excursions to Bath and/or Statford-upon-Avon (depending on the program)
PROGRAM DETAILS:
Prerequisites
Costs & Financial Aid
Arrival & Overview
Living Accommodations
Academic Structure
Travel & Documents
Important Links: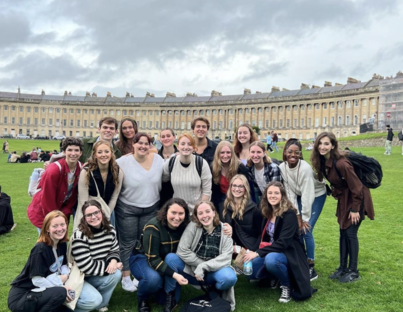 Welcome to London: The Life of a Naz MT on the West End
Andrew Wicklum '24 studied abroad in London during the Fall 2022 semester. Read about his experience here.