Logo & Marks
The Nazareth College graphic identity consists of its primary logo, variant, logotype, and shield symbol.
The logos have been specifically drawn and exist in digital format for consistent reproduction. The logos should never be redrawn. A complete list of incorrect usages »
Logo use instructions: 
Use the logo consistently and properly to raise the visibility and recognition of Nazareth College.
Follow these guidelines to provide maximum legibility of Nazareth College's logo. 
Use only the formats provided, and use the ticket form to get the actual, appropriate logo from MarComm for each use.
Do not reset or reproportion the logo, or use it so that the integrity is compromised, the form distorted, or the legibility impeded.
Note: The logos displayed here are not to be copied from this page for use on any materials. To get the appropriate version for your needs, submit a ticket.
Minimum Size
The smallest size the primary logo and variant should appear at is 0.625 inches (print) or 65 pixels (web) high. The logotype can appear at 0.125 inches (print) or 16 pixels (web) high.
Safety Zone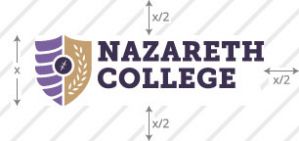 Sufficient space (safety zone) around the logo is required so that it stands apart from surrounding visual elements. The safety zone is 1/2 the height of the logo. For the logotype variant, the safety zone is twice the height of the "N" in "Nazareth." Do not place items within this area.
Colors


4-Color Printing (CMYK)
 60 | 65 | 00 | 00
 80 | 85 | 20 | 20
 10 | 25 | 55 | 10
3-Color Printing (Pantone)
 PMS 2665 U
 PMS 2695 U
 PMS 466 U
Web/Screen
 #8666ab
 #4b375e
 #d4a66d
---


1-Color Printing (Pantone or black)
 PMS 2695 U or black
---


Dark Background

Used only under special circumstances.
---
Affinity Marks
As our audiences build an awareness and understanding of Nazareth College, it is critical that we present our brand identity logo consistently, clearly, and in its purest form. Doing so promotes positioning and brand equity building. For this reason, we do not create sub-brand logos for specific departments or programs.
Instead, we provide Nazareth branded marks for affinity groups based on topics. Example:

---
Nazareth branded layout templates for faculty & staff use
If you're on a tight timeline and seek to produce a piece quickly and independently, a Nazareth branded design template may be a good option.
Access a downloadable Nazareth branded PowerPoint presentation here »
Contact us to learn more about how to request a template and use Canva to customize it for your project. Template options are available for:
Academic program info sheet
Trifold brochure
Rack card
8-1/2 x 11 flyer
11 x 17 poster
Social media posts
Email image graphic
Department/program t-shirt design (using our college marks)
Letterhead