Housing Application
Welcome to Nazareth! Housing preference is based on the date your deposit is received. Once you have been accepted and you pay your deposit, you will have access to the Nazareth housing and meal plan system, which looks like this: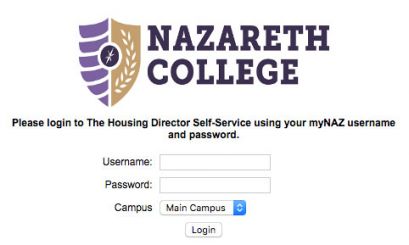 Step 1: Log in using your myNaz account and password. If you haven't used that yet, or if you need to reset your password: MyNaz password administration.
Step 2: Fill out your housing application and tell us about yourself. You can select the First Year Experience that best suits your interests, express preference for a residence hall, and tell us if you have someone you want to live with. Don't worry if you don't know someone yet, we typically do the matches for more than 60% of new students.
Please read the terms and conditions carefully as the housing agreement is a legally binding contract for both you and the College. 
We look forward to having you move in!
Deadlines
For students entering in August:
Please complete your housing application by May 15. If you have difficulty, contact our office.
For students entering in January:
Dec. 28 is the deadline to complete your housing application, including the New Student Housing contract. Please complete your application as soon as possible. Contact our office if you have difficulty accessing the application.
Special Needs Housing
If you have a medical or psychological condition that you believe warrants special housing, please read our special housing requests procedure. Then if you would like to apply, use the special housing request form.