Shared-interest Communities
A place that feels like home with friends who already "get" you.
Optional themed housing areas and activities make it easier to:
Make connections and new friendships with classmates who share common interests, goals, and tastes.
Get involved with activities on campus.
Take full advantage of all that college living offers.
How it works
These rooms and shared lounges are in designated sections or floors of residence halls on campus. A typical shared-interest community totals about 20 residents who enjoy activities together.
Make your choice
To live in a themed community, identify your top 3 picks and complete the housing application online. Assignments are made on a first-come, first-served basis according to when your completed application and deposit are received.
Our residence life team will confirm your final placement around the first week in July. Then you can begin planning and connecting with your future community members through Nazareth's app for incoming students.
Living in a shared-interest community is entirely optional. If you opt not to, your room assignment will be made in traditional housing in one of Nazareth's first-year residence halls on a first-come, first-served basis according to when your deposit is received. You can still choose to take part in special programming.
Special-interest Community Options
Creative and Performing Arts — A community for music, performance, and art lovers
Scholars— A community for those with an intellectual curiosity
First to Fly - A community for first-gen students
Specialty Housing Options
True Colors - A housing option dedicated to inclusiveness
Global Commons — A housing option dedicated to travel and culture aficionados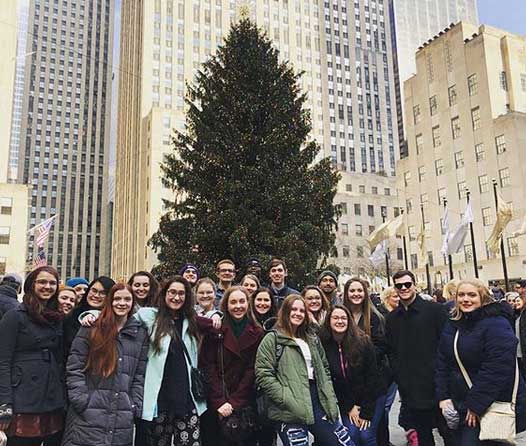 The Creative and Performing Arts Shared Interest Community kicked off their NYC trip at Rockefeller Center.
See what other shared-interest communities are up to: @nazreslife on Instagram.
FAQs
What does it mean to be part of a community?
How are special programs, events, and activities scheduled?
If I choose to live in a triple or suite, can I still participate?
Is there a special fee to participate?
If I decide that I don't like the shared-interest community, can I move?