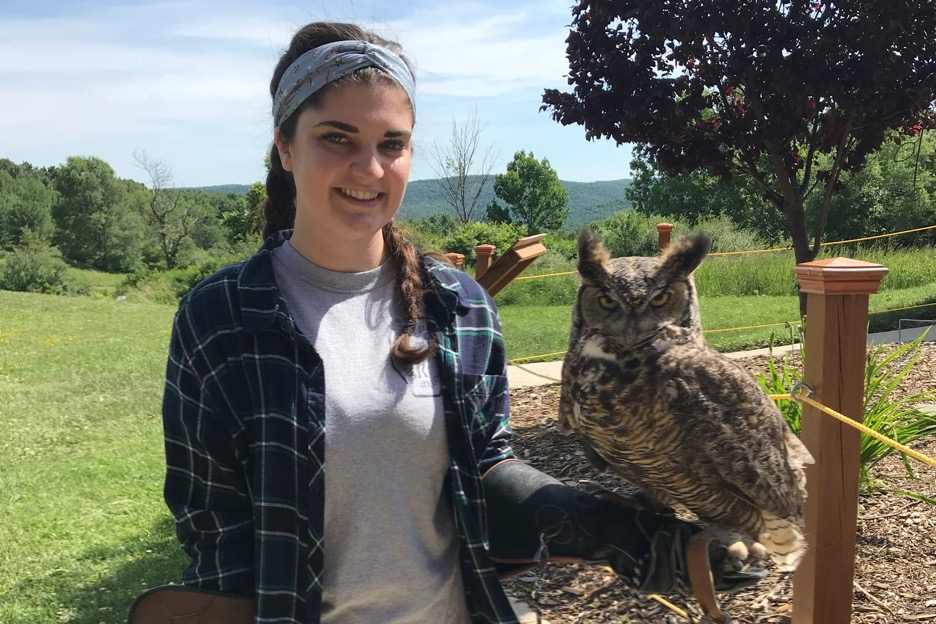 Stefanie Bunnell (INTERNSHIP)
Caring for animals such as Sophie the owl (pictured) and Wilbur the black vulture and educating people about them at Tanglewood Nature Center has confirmed plans by Stefanie Bunnell '20 to become a teacher. "I never thought I would find a career path that makes me excited to wake up on a Monday morning to go to work, but I did! I also know now that it is possible to merge education with environmental conservation in a career, which is great because I am an education and biology major!" She'd like to become an elementary teacher and continue with conservation work, research, and working with animals. "I have always had a passion for the environment and a deep interest in all the animals in it..... Showing people the importance that particular species hold in the ecosystem hopefully makes them aware of the value in preserving those species and the planet they live on." She said her SPARK Grant allowed her to focus on this internship all summer, without struggling to also fit in a part-time job.
Recent Summer Internships
Examples of SPARK Grant-supported summer student experiences:
RESEARCH mentored by faculty
An English and education major studying incarceration narratives in children's literature to identify books that help children understand/cope with a parent's incarceration
A social work major doing a qualitative project on postpartum depression
A biology major studying the effect of growing medium on the health of plant seedlings
INTERNSHIPS
A music/business major at Carl Fischer Music sheet music publishing company in New York City
A music education major teaching music in Spain 
A finance major at Northwestern Mutual in Syracuse, NY
An occupational therapy major at Northwest Association for Blind Athletes (NWABA) Camp in Oregon.
A dance and social work double major at Dancenter dance school in Utica, NY
A communication and media student with a minor in music performance providing social media and photo/video work at concerts at Symphoria Orchestra in Syracuse, NY
A legal studies major at the Indiana County District Attorney's office in Indiana, PA
A public health major at Madison County Department of Health, NY
An English major at 585 Publishing in Rochester, NY
A music/business major at Boston Crusaders Drum and Bugle Corps in Boston
A psychology major at Compeer in Rochester, NY
A musical theatre major at Fingerlakes Musical Theatre Festival
A business management major with an art minor at Rev Marketing in Victor, NY
Student deadline: You must apply before the experience starts, but after you've lined it up. See SPARK Grant eligibility and details »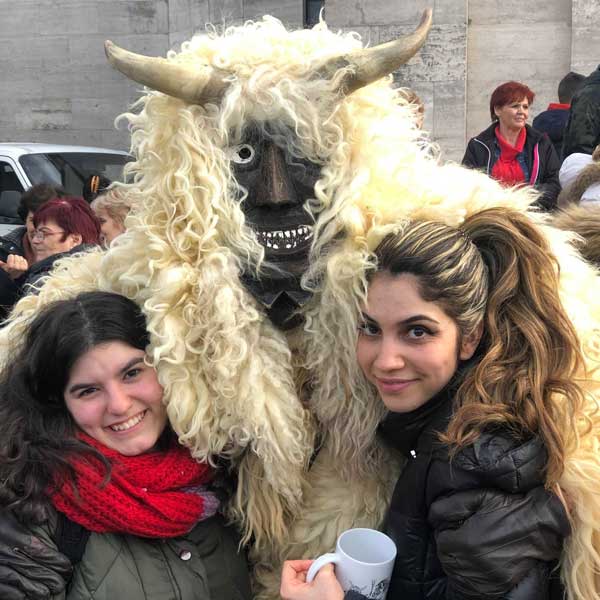 FARIDA HOSAINI '22 (HUNGARY)
Studying in Hungary for a semester allowed Farida Hosaini '22 to overcome her fear of being so far from home. "After settling into my apartment, taking the time to navigate throughout the city, and speaking to so many people, I realized that within less than a month, I have truly formed a second family far away from my hometown of Rochester."
Farida — a global studies major with minors in music and studio art — was able to study political science and international studies as well as visual arts and music at the University of Pécs. "Being in Hungary has taught me how important it is to learn how to live independently and adapt to a whole new environment, as your hometown may or may not be the place you would stay in for the rest of your life. It has taught me the importance of being patient, persistent, and a risk-taker." Farida, who's the first in her family to go to a four-year college, says she would have not been able to make the trip without the help of Nazareth's SPARK Grant. She also received a prestigious Benjamin A. Gilman International Scholarship from the U.S. Department of State.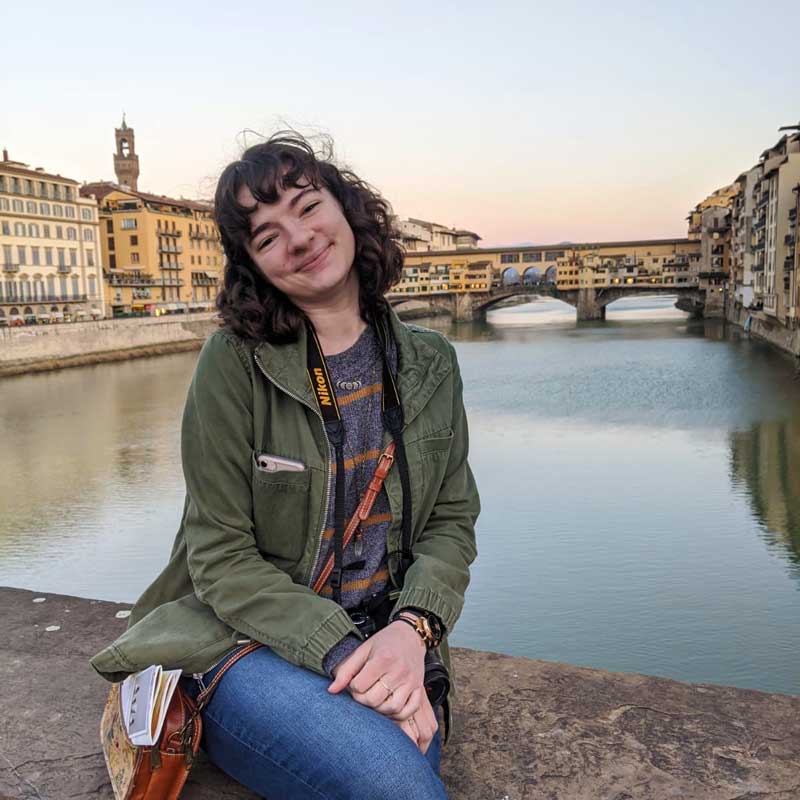 MEGAN RUFFALO '22 (Italy)
Major: visual communication design
Minor: dance
SPARK experience: studied at the Santa Reparata International School of Art in Florence.
"Getting to study art in a city full of work by Renaissance masters is so incredible," said Megan — calling it unbelievable to see in person, up close, the artworks she has read and learned about. Among her favorite experiences: seeing Michelangelo's sculpture David, climbing all 463 steps to the top of Florence's Duomo, and taking day trips to explore other beautiful Tuscan cities like Siena, San Gimignano, and Viareggio. Her spring 2020 stay was cut short due to COVID-19, but she's so glad she went. Months later, Megan said: "I think back to my time in Italy often, and when I do, I feel nothing but joy and gratitude to have gotten the opportunity to learn and grow there. I treasure the two months I had there — it was genuinely the best experience of my life. The places I explored, the sites I saw, the people I met — I wouldn't trade that for anything."
99%
For students who used SPARK their first year, 99% successfully moved on to their second year at Nazareth.
Lily Caron (Hungary)
Nursing and public health major Lily Caron '20 traveled to Hungary during spring break to present a paper about mental health to fellow college students. Big confidence boost to speak in front of a large international conference? Yes. But so much more. "My host student, Regina, gave me an invaluable experience as she took me horseback riding in the country, showed me a famous lookout of Lake Balaton, and taught me what the typical Hungarian college experience is like. She's already planning a trip to visit me in America and has invited me back to stay with her for two weeks this summer! I strongly believe that traveling with Nazareth College provides a chance to learn valuable lessons and make memories that will last a lifetime."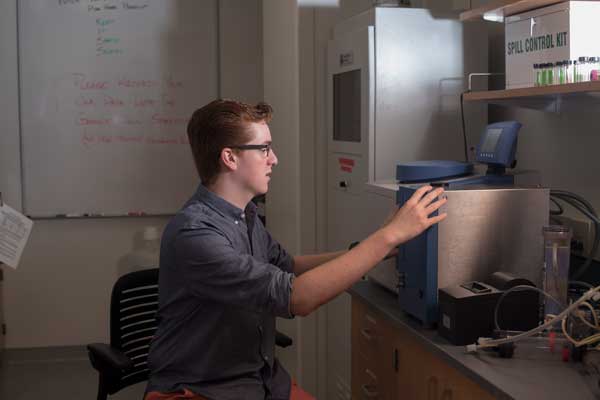 Erich D'Eredita (Research)
"There's a joy in finding information that hasn't been known before," says biology major Erich D'Eredita '20, who spent 6 summer weeks on campus analyzing the caloric value and composition of northern crayfish. The role was paid, but commuting 45 minutes both ways from home would have been an obstacle — until he got on-campus housing at very low cost through Nazareth's SPARK Grant program. He said the summer research advanced his proficiency with laboratory procedures and machinery, including computerized calorimetry, which is a plus for his plans to pursue grad school and future research. He would love to research the way life exists in the Great Lakes or Finger Lakes area — where he's from — and find a way to remove contaminants that are inhibiting life. "That's what I want to do. I've always loved nature." Considering climate change, he adds, "There's definitely an urgency."