Work with an Advisor
Academic advisement is the reflective process of planning a student's education, keeping in mind the College's academic policies and degree requirements as well as the student's choice of major, academic abilities, special interests, co-curricular activities, and professional and life goals.
All students must complete requirements for a major and Core.
Incoming first-year and transfer students are assigned faculty advisors from within their major department.
Open Path Program students are assigned to an advisor from the AAC or a volunteer faculty member.  After declaring a major, students are assigned advisors within their major department. 
If you do not know who your assigned advisor is, click on the "Advising" tab in the Plan of Schedule View in Student Planning on NazNet Self-Service or contact the Academic Advisement office.
Make sure you understand the roles and responsibilities for both you and your advisor.
You can schedule an appointment to work with your advisor at any time, but you are expected to meet with them at least once a semester during the Advisement & Course Selection period.
Helpful Resources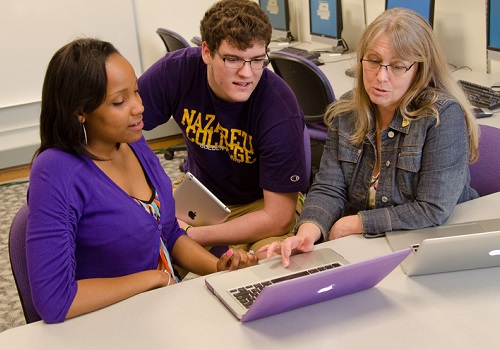 Advisor Appreciation
Click here to complete a recognition form.

Your academic advisor assists you in planning and attaining your educational, professional and life goals. Your advisor supports your success by encouraging you to become self reliant and make appropriate educational decisions. Did your advisor:
refer you to a resource or program that was helpful?

demonstrate concern for you?

assist you in clarifying your educational and/or professional goals?

clearly and accurately explain requirements for your program?

help you get back on track with your academics?

take time to get to know you?

help you solve a problem?

challenge you in some way that helped you grow as a person?
Please help us recognize our outstanding advisors. Complete a recognition form to show your gratitude. Your remarks will be shared with your advisor and his/her department chairperson and dean. Your advisor will also receive a certificate of appreciation. Thank you!