CHM.Q 140 Eligibility Information
Incoming Freshmen: Please refer to your Dashboard. If you see Chemistry Readiness Exam (CRE) as a requirement, we have already determined that you need to take the exam for placement. Frequently asked questions are listed below.
Current and Transfer Students: Please read the flowchart for instructions.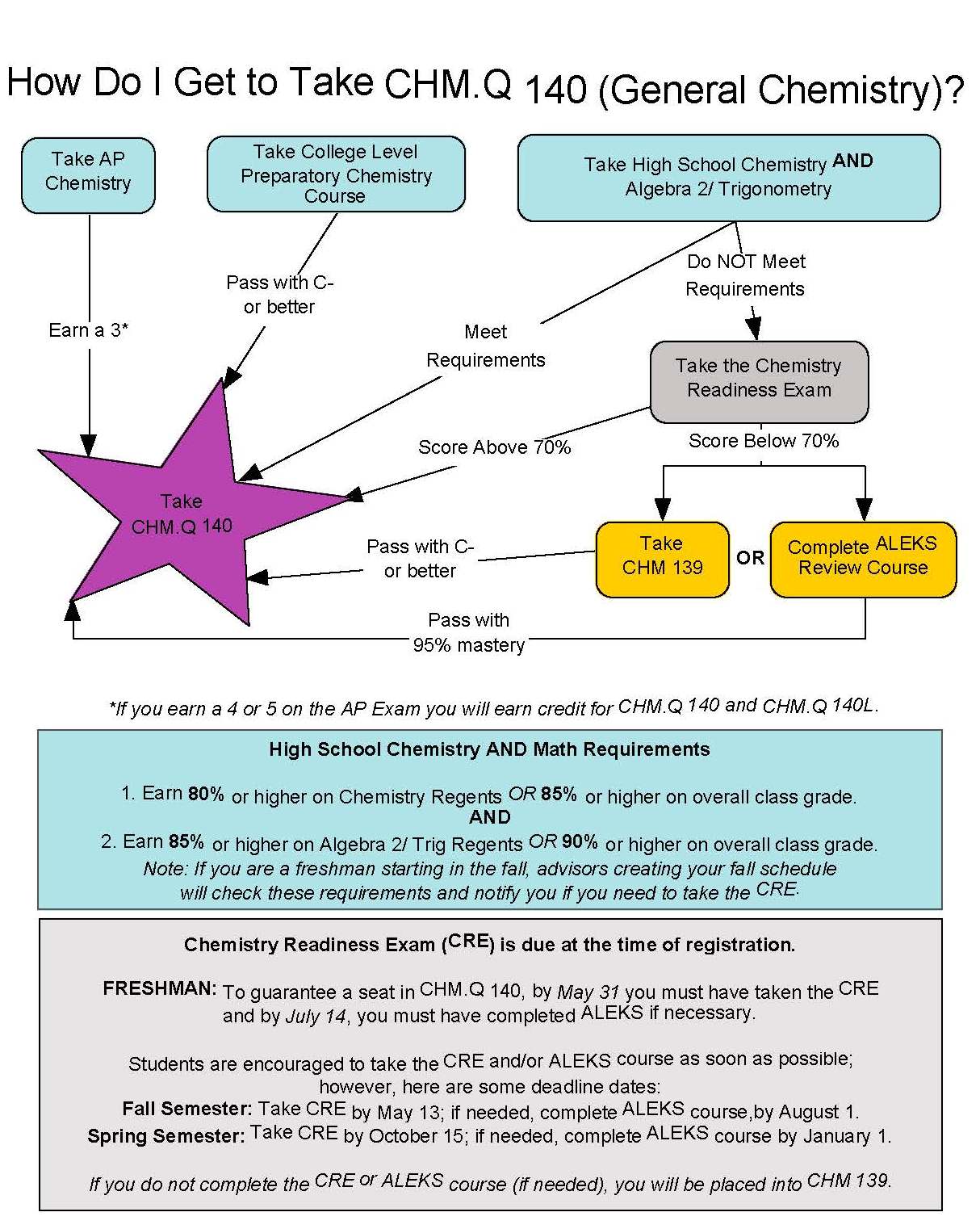 The following majors need to take CHM.Q 140 as part of your program:
Chemistry
Biochemistry
Biology
Biomedical Sciences
Clinical Laboratory Sciences
Environmental Science Sustainability
Nursing
Physical Therapy
Toxicology
NOTE: You do not need to have CHM.Q 140 required for your major to take it; however, you will need to meet one of these requirements:
a. Take high school chemistry AND Algebra 2/Trig and earn:
Chemistry: 80% or higher on Regents OR 85% or higher in class
Math: 85% or higher on Regents OR 90% or higher in class
NOTE: If you believe you meet the high school pre-req., contact the Academic Advisement Center for verification.
b. Take an AP Chemistry course and earn a score of 3 on the exam
A score of 4 or 5 places you out of CHM.Q 140
c. Take a college-level preparatory General Chemistry course and earn a C- or higher
CHM 139 at Nazareth College
at another college
d. Take the CHM.Q 140 Readiness Exam and earn a 70% or higher
this exam will help to place you into the course most appropriate for your current level of chemistry understanding: CHM.Q 140 or CHM 139
more detailed information below
e. Take ALEKS online course (details below) and pass with 95% mastery
NOTE: Many schedules for academic majors are tight and the sequencing of courses is important. For these programs, it is in your best interest to meet one of the above pre-requisites (a-e) prior to your first semester at Nazareth College to take CHM.Q 140 as scheduled by your program.
---
Chemistry Readiness Exam (CRE)
The Chemistry Readiness Exam (CRE) is a timed multiple-choice exam composed of 50 questions on the general chemistry, math, and reasoning skills that will be needed for CHM.Q 140. You may only take this placement exam once. It is used to evaluate your chemistry background and preparation for CHM.Q 140 so that you can be placed into the appropriate chemistry course (either CHM 139 or CHM.Q 140). CHM 139: Preparation for General Chemistry is specially designed to prepare students for CHM.Q 140.  
To take the CRE exam, you self-enroll in the Moodle site identified as "Chemistry Readiness Exam."  To do this,
Navigate to Naz Moodle (https://lms.naz.edu/). 

Login by entering your username and password.
Click on Courses for Students.
Scroll down until you see Self Enrollable And Guest Courses. 
Click on "Chemistry Readiness Exam". 
You will be taken to the Moodle site where you will click on the "Enroll Me" button toward the bottom of the page.
After you are enrolled, you can read all the documents, take the practice exam, and complete the CRE.
Completion of the Online CRE is due at the time of registration.
Current students: May 13 (for fall) and October 15 (for spring).
New freshman students: Academic Advisement will monitor completion of CRE and ALEKS and register you for the appropriate course.  CRE must be completed by May 31. ALEKS course, if needed, must be completed by July 14 to guarantee a seat in CHM.Q 140.
Q and A
When is the CRE given and its due dates?
What material will be covered on the examination?
How will scores on the examination be used?
How many questions on the CRE do I need to get correct to pass?
If I don't score high enough on the CRE to enter into CHM.Q 140, can I take the CRE again so I don't have to take CHM 139?
How can I prepare for the CRE?
I took the exam with the hope of getting into CHM.Q 140 next term, but I was not able to enroll in CHM.Q 140. Will I have to take the exam again?
If I think I need CHM 139, the preparatory course for CHM.Q 140, do I need to take the CRE?
If I have taken CHM 139, do I need to take the CRE before taking CHM.Q 140?
ALEKS Review Course
ALEKS (Assessment and LEarning in Knowledge Spaces) is a web-based, artificially intelligent assessment and learning system. ALEKS uses adaptive questioning to quickly and accurately determine exactly what you know and don't know, and then instructs you on the topics you are most ready to learn. As you work through a course, ALEKS periodically reassesses you to ensure that topics learned are also retained. ALEKS also provides the advantages of one-on-one instruction, 24/7, from virtually any web-based computer for a fraction of the cost of a human tutor.
ALEKS will be extremely useful to any student who has taken high school chemistry but needs a review of key concepts before taking CHM.Q 140.  For $35, you get access to an 11-week ALEKS license, with which to attain the 95% total mastery that is required for CHM.Q 140 enrollment. On average, students require ~70 hours in the program to achieve this; however, ALEKS provides a total of 11 weeks before the purchased license expires. First year students need to complete ALEKS by July 14 to enroll in CHM.Q 140. If the ALEKS license expires before you complete the course satisfactorily, you must purchase a new license if you choose to complete the ALEKS course.
Please read the ALEKS course instructions prior to registering for the course.
Completion of the ALEKS online course is due at the time of registration.
Fall registration – August 1 (July 14 for freshmen to guarantee seat)

Spring registration – January 1
Students who do not meet the 95% total mastery will not be given permission to enroll in CHM.Q 140. 
You do not need to complete the ALEKS program if you have received a C- or higher in CHM139 or if you received a passing grade on the CRE.
Current Course Code: LYTVX-YR6C6
For $35, you get access to ALEKS for 11 weeks.