Changemaking
I enjoy helping students have experiences that fuel understanding, benefit the public good, and can inspire their own work to help society. For example:
I frequently engage students in experiential learning activities, particularly opportunities that involve promoting financial literacy. Accounting senior seminar students design and deliver a financial literacy program for area high school students as part of the Nazareth College Connection tutoring and college experiences program.
Favorite job
Prior to teaching, Eileen worked for more than 15 years in a variety of financial and operational roles in public accounting as well as private industry.
"I really enjoyed working as a consultant for one of the 'big four' accounting firms. I was able to travel and meet new people regularly. The work was never the same, and it was incredibly fulfilling to help clients solve problems and run their businesses more efficiently. I was very fortunate in my career as a CPA, but nothing compares to teaching at Nazareth. It is so invigorating to work on a college campus and to teach students in this environment."
Accounting
"The discipline of accounting is often associated with mathematical equations and rigid financial reporting rules. The role of the accountant can be much broader requiring the skill to assess opportunities and to develop strategy within organizations. The discipline requires the ability to work in the 'gray area' and successful accountants embrace this reality and learn to develop their professional judgment."
What you will learn
"I teach my students that learning the accounting rules, preparing calculations accurately, and solving problems is merely the beginning. Truly understanding accounting requires the ability to analyze information, make high-quality management decisions, and solve complex problems.
My goal is to create an innovative and engaging learning environment that reflects real-life scenarios where students gain the critical thinking skills needed in the professional world. We go beyond the 'how to' of accounting and dive into the 'how can this information be useful for decision making.'
Seeing this development in my students is what makes my job as a professor so rewarding. I am most proud when I see a student have an 'aha moment.' Watching a student work through a complex problem and pushing beyond the obvious solution is very exciting!"
Personalized learning
"In the School of Business and Leadership, you can see that the relationship between students and faculty is a key strength. We know our student's interests and are ready to open opportunities for them. In a real sense, we are able to prepare them specifically for the job they plan to pursue because of the close-knit nature of the department.
One of our real strengths as a college is the Center for Life's Work, which helps with career coaching and identifying internships and other opportunities that maximize the student experience. They position students for employment after graduation and are really an example of what a personalized education looks like."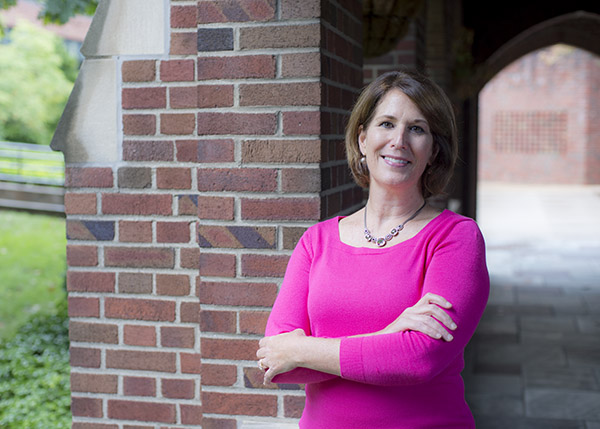 "When my students graduate, they become a part of my professional network. This department remains a resource and support in their first job and throughout their career. Our experienced alums become resources for the college by hosting interns or by guest speaking in class. We faculty expect to build lifelong connections."
Advice for success
"Develop your communication skills! Accounting is the language of business. Accountants interact with many constituents, including chief executive officers, boards of directors, and government regulators. The ability to effectively communicate financial information is the most critical part of the job."
Student Perspective
"As with many college students, I went to school thinking I knew exactly what I wanted to do and came out with new goals and a new profession in mind. Professor Beiter was there for me when I needed guidance and was always encouraging me to do my best. She truly cares about her students. She has forever impacted me as a student and as a professional."
— alum Jennie Betts, hired as a Paychex credit risk specialist
"Professor Beiter was the most caring instructor I have ever met. In the classroom, she was very thorough and made sure everyone understood the material. Outside of the classroom, she made herself available to students for extra support. During my time at Naz and even now after graduating, I find myself asking Eileen for guidance. She cares about the success and well-being of her students. She inspired me to pursue my degree in accounting. I took as many classes that were instructed by her as I could."
— alum Alex Ross, hired as a Wegmans budget/financial analyst
FACULTY SPOTLIGHTS
Wondering who else you can learn from — and who will support and challenge you? Check out Faculty Spotlights.