Courses I teach
Managerial Ethics
Social Entrepreneurship
Senior Capstone
Organizational Behavior
Organizational Development & Change
Leadership
Social Impact
Dr. Leigh attended the Clinton Global Initiative University Conference at Northeastern University October 2017 with Nazareth College students.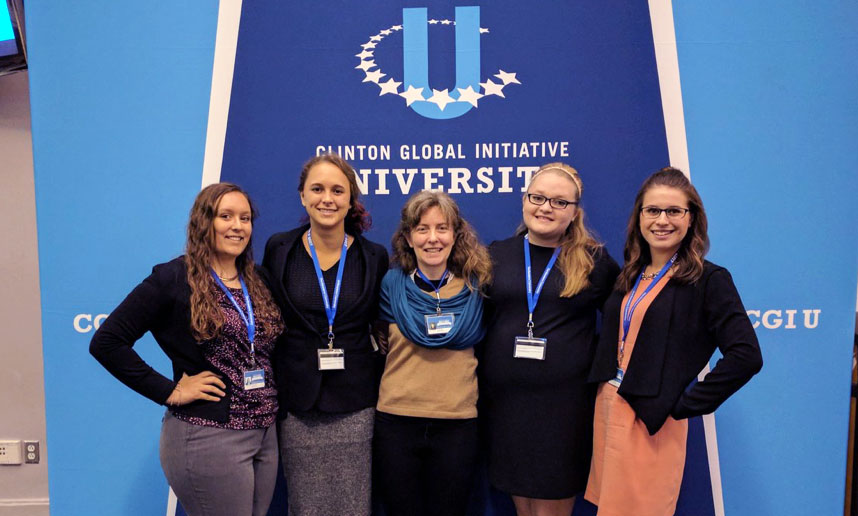 "There are numerous 'grand challenges' facing our society— 'wicked' global problems that can be feasibly addressed with global collaboration. Professors can play an influential role in shaping the minds of current and future leaders regarding these challenges by providing a humanistic framework for students and offering a safe environment in which to struggle with ethical, practical, and conceptual issues."
Favorite Course
It is difficult to choose just one course! My goal is to create transformative learning experiences with my students through engaging in service-learning projects with our community, participating in global virtual teams, consulting to small and medium sized enterprises, and mentoring student-led instruction. In these deep experiential learning opportunities students can bring more of their whole selves to the process and connect research from the course, their majors, and the core curriculum to real-world opportunities and challenges.
Recognition
In 2016 she received the Mid-Career Distinguished Educator Award from Management and Organizational Behavior Teaching Society (MOTBS). 
In 2010 she and her colleagues Dr. Joy Beatty & Dr. Kathy Lund Dean received the prestigious Fritz Rothlisberger award for the best article in the Journal of Management Education during 2009. 
In 2007 she received the New Educator Award from MOBTS.
Engaged Scholarship & Service
Dr. Leigh is a Service-Learning Scholar in the Center for Civic Engagement at Nazareth College. In the Rochester area, Dr. Leigh and her students collaborate with community organizations through service-learning projects such as the Rochester Refugee Resettlement Services (RRRS) and the Community Place of Greater Rochester.
Additionally, Dr. Leigh holds a number of leadership roles in her professional societies. She is a Senior Editor for The Annual Review of Social Partnerships (ARSP) and an Associate Editor of the Journal of Management Education (JME) and Business Ethics: A European Review (BEER). She has served as a special issue editor for both JME and BEER with editions on the Principles for Responsible Management Education (PRME) and Addressing Grand Challenges.
Research: Responsible Management Education
Dr. Leigh publishes widely in journals and other outlets on the topics of corporate social responsibility and humanistic management. She recently co-edited the book Educating for Responsible Management: Putting Theory into Practice with Roz Sunley (2016).