Digital Marketing Boot Camp!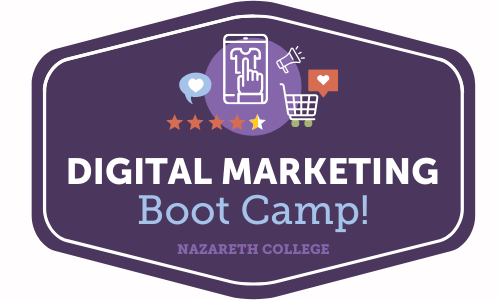 July 11 – July 15, 2022
9 a.m. – 4:30 p.m. Monday – Thursday
9 a.m. – 12:30 p.m. Friday
With digital technology tutorials, simulated advertising agency activities, and sample course lectures, Digital Marketing Boot Camp! provides an immersive and fun dive into this dynamic and growing career field.
Designed for students in high school, grades 9 – 12. 

An in-person, on campus camp.

$300 for the week, including lunch in the dining hall.
The program follows Monroe County and New York State guidelines, as well as working with Nazareth College Facilities to ensure all COVID-19 safety precautions are met.
Day
Activity
9 a.m. – 12:30
1:30 – 4:30 p.m.

Monday, July 11

Teamwork, Collaboration, and Marketing 101
Morning
Students will gather in teams, form their own advertising agencies, create a logo and team name.
Afternoon
Students learn about developing new products and how to sell them online.

Tuesday, July 12

Website Design and Content Strategy
Morning
Students gather with their team and start designing a website landing page for their new product.
Afternoon
Students create content for their website landing page, using keywords to optimize for Google search.

Wednesday, July 13

Advertising and Social Media Marketing
Morning
Students learn about the principles of design by creating banner ads and learn about the ethics of paid advertising. 
Afternoon
Students create social media campaigns and learn about the value of protecting online brand identity and their own personal image.
Thursday, July 14
AI, Analytics, and Machine Learning
Morning
Students will configure Google Analytics to track all their website landing page and advertising campaigns by creating a dashboard with real data.
Afternoon
Students will use artificial intelligence and machine learning applications for digital marketing applications, like chatbots and automated content.

Friday, July 15

Client Presentations
Morning
Students will present all of their work to their parents as "clients" with the new technology applications they learned to use.
 
Lunch and snacks are included.
The program runs from 9 a.m. until 4:30 p.m., Monday - Thursday. Drop off begins at 8:30 a.m. Pick ups no later than 5 p.m. Friday's session will begin at 8:30 a.m. and will conclude with a presentation to parents from 12 – 12:30 p.m., with a dismissal no later than 1 p.m.
Parents are invited to join the Friday final presentation from 12 – 12:30 p.m.