Cambodia
Cities & Sanctuaries
This program welcomes participants to the fascinating country of Cambodia where big bustling cities and sacred spaces comingle. From the metropolis of Phnom Penh to the rural countryside of Banteay Meanchey, participants will have the opportunity to explore Cambodia's turbulent past and see how communities, big and small, are building for the future. We'll study the genocide in great detail at the Killing Fields and S-21 Prison, immerse in Khmer culture and journey to Banteay Chhmar where communities are working to repair rural livelihoods, and venture through Angkor Wat, the largest religious complex in the world. We'll interact with innovative community initiatives that exemplify the resilience of a population that has struggled for peace and now strives for prosperity. 
Hands-on experiential learning and cultural immersion provide a unique classroom where participants can challenge themselves while reflecting on the links between memory and justice, as well as tourism and sustainable development.
Program Highlights:
Embrace the complexity of modern Phnom Penh, from the beautiful temples and the royal palace, to the harsh realities of the Killing Fields.
Learn about preservation and restoration efforts in a small Khmer village surrounding an 800-year old temple complex destroyed during war.
Get your hands dirty in the rice fields while volunteering at a permaculture education center designed to support local farmers promoting best practices in sustainable agriculture.
Travel back in time to explore the majestic ruins of Angkor Wat, a world famous UNESCO World Heritage Site and the largest religious complex in the world.
Program Details
Program Itinerary
Critical Focus Areas
Program Dates
Housing
Program Costs
SPARK GRANT:
Qualifying freshman, sophomore, and transfer students can use their SPARK Grant for this short-term study abroad program.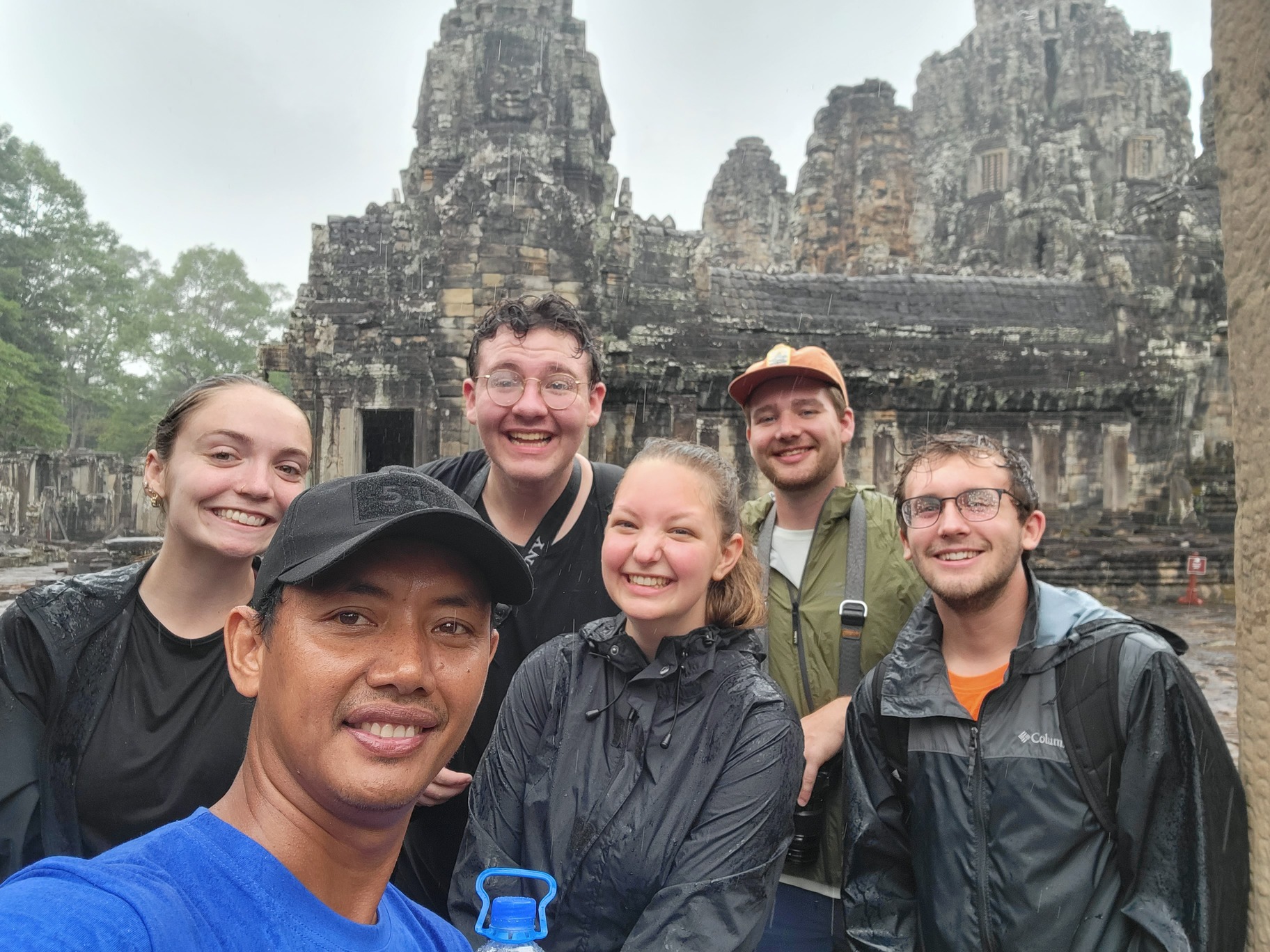 Reflections from Abroad:
"This trip has allowed me to broaden my cultural lens and learn about what it truly means to be a global citizen. I will carry what I have learned on this trip with me as I continue to travel and create international relationships. This program has shown me the resilience of human beings. Genocide has happened all across the globe; Cambodia isn't the first place, and unfortunately not the last either. However, I've learned that it doesn't matter where you are in the world - love and joy is everywhere, despite tragedy. I've learned to see the kindness and love in people's hearts. The past doesn't define or limit the possibilities of the future." - Jamie Hogancamp '23