Creating and leading music opportunities
Strelau is well-connected in the music community and regularly creates opportunities and connections for Nazareth students and alumni.
Invites students to sing with Josh Groban on his multiple upstate New York tours
Created a Nazareth student composition competition for a brand: Elio car ad
Connects students and alumni to professional experiences, such as a music education and performance major's collaboration with an art professor to create a video for Sesame Street
Conducts Nazareth College Symphony Orchestra
Conducts Nazareth College Chamber Orchestra
Guest conducting for All-State performances
Created and conducted for 20 years The Hochstein Youth Symphony Orchestra, a full orchestra for advanced youth musicians
Created and conducts Virtuosi Scholarship Chamber Orchestra at Nazareth College, which is linked to a learn-to-conduct project for high school students
Created and conducts Greater Rochester Women's Philharmonic, which is more than 25 years old
Why not the Bahamas: "While in Miami (for grad school), I created an amazing relationship and bond with musicians on the island of Nassau, Bahamas (just 90 miles away from Miami). This relationship has continued to this day. Naz Chamber Orchestra travels to the island every couple of years for a December holiday concert."
And Alaska. In 2018, she invited two music education students to travel with her to a women's prison in Alaska for a musical experience.
Expertise
Teach, compose, conduct, play violin, & be entrepreneurial: "Before I started teaching at Naz in 2004, I had a full career teaching elementary, middle, and high school in Pocatello, Idaho, and in Logan, Utah. I also had co-founded a school for string players in Bismarck, North Dakota. I learned so much about myself and grew through my experiences teaching, composing, conducting, and playing in various orchestras (including Rochester Philharmonic). Graduate work in Miami led to playing in the Philharmonic Orchestra of Florida and lots of recording studio work. Along the way, I've also been the maestro of the Brighton Symphony Orchestra and the Finger Lakes Symphony Orchestra."
Courses I teach
"I love teaching all of my courses in that each one deals with the psychology of the ear and how we perceive sound, as well as the psychology of the physical in interpreting the movements of the conductor. In addition to teaching, I run a program called 'Almost a Recital' where students get on stage to work through nerves that we all have when performing. All of these experiences allow me to work one-on-one with students who are as passionate about music as I am."
String Pedagogy
Orchestral Conducting
Applied Conducting
Music Composition lessons
Nazareth College Chamber Orchestra conductor
Nazareth College Symphony Orchestra conductor
Why Naz?
"At Naz, each student is valued for who they are and what they bring to their studies and the college community. Students are given the opportunity to lead and create and are given profound opportunities to grow through real-world experiences. You can't put a price on this."
Engaging students
"I engage my students by finding out their view of the world, their view of the profession they seek, and their approach to music. I honor and respect that, and then challenge those thoughts with different ideas and out-of-the-box concepts, asking my students to open up, engage, and entertain new thoughts and possibilities. It's not about cracking a book in my class.
About Teaching
"I approach teaching as a back and forth of ideas and an avenue to try new and different approaches to a subject."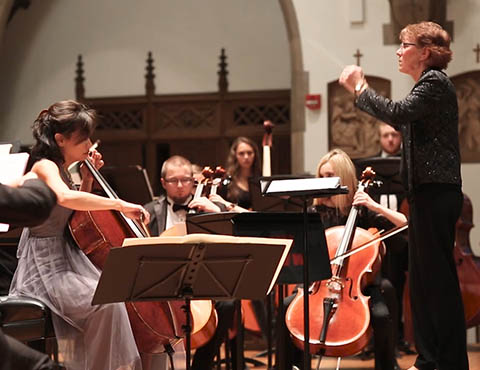 "I love to 'be' with my students in and out of the classroom; to hear their opinions, thoughts, views of the world; to understand their point of view and to offer an older perspective. This is what drives me every day and makes my work at Naz with my students so fulfilling."
An early entrepreneur
"I was the sole bagpipe music distributor in the New England area when I was in college. At age 19, I also co-owned and ran The Irish Fiddle Shop in Syracuse, N.Y. with my friend and New York state fiddle champion Mo Riley."
What I ask of my students
Jump headfirst into experiences related to your desired field
Dream big
Let me know what your end goal is, so I can help you achieve it through profound and life-changing experiences
Student perspective
"When I am on the podium, I base my conducting and communication with my students off of the mannerisms and techniques of Nancy Strelau. She has an amazing ability to find the best in each student at Nazareth College, nurture and challenge musicians to their full potential, and inspire future educators to become champions for themselves and one another." 
— Lauren Beikirch '14, violinist and intermediate orchestra director for Victor Central Schools
Feeling proud
"My students are my legacy and I am so proud of their empathy for others, their thoughtful approach to working with students and peers, and their genuine love for music making. I help students prepare for meaningful lives/careers by talking about life, music, relationships, and service to community. The casual conversation in the hall may have more meaning and impact than a classroom discussion."
Faculty Spotlights
Wondering who else you can learn from — and who will support and challenge you? Check out Faculty Spotlights.